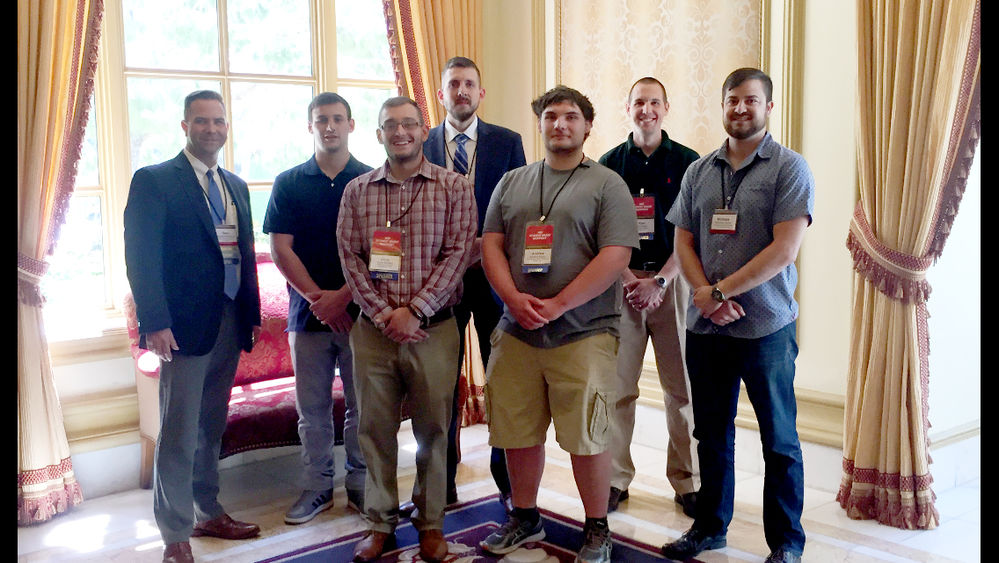 DUBOIS, Pa. — For the Penn State DuBois General Engineering Program, what happens in Vegas doesn't just stay there; it's heard around the world. Six students from the program attended the international conference on powder metallurgy, POWDERMET 2017, this summer in Las Vegas, Nevada, and presented research there. Their participation in the conference was made possible by a student grant from the National Science Foundation, a grant the students qualified for due to the merit of the research they're conducting within their degree program.
"The grant for supporting students to attend the 2017 POWDERMET Conference in Las Vegas was competitive and open to all students from US colleges and universities. For our six students to be selected for this award was a clear testimony of how well our program is rated from the PM (powder metal) industry," said Assistant Professor of Engineering Daudi Waryoba. "It does demonstrate how significant our program is and its impact on the future of the PM industry. When students present at these national and international conferences, they not only showcase their work, but also act as ambassadors for our campus. It does draw employers from across the PM industry to hire our students. This is one of the reasons our program has kept its record of 100 percent employment since its inception."
Stephen Feldbauer, an instructor in engineering at Penn State DuBois, accompanied the students to Las Vegas. He said, "The grants from the NSF and MPIF (Metal Powder Industries Federation) provided these students a unique opportunity to make the connection between academics and current issues that are important to the Powder Metal Industry, while making many new contacts with the industry's industrial and technical leaders."
Students presented work in the form of informational posters and academic papers explaining research projects they've conducted. The hands-on projects included the development of new methods to join together powder metal parts, and ways to improve quality and production of parts. Powder metal is used to produce parts for items most people use every day, unaware that this industry has made the production of these items possible. Powder metal parts are used in everything from cars, to household appliances. The students' work demonstrates real value and relevance to the PM industry, indicating how successful they've been in their academic studies. But, always looking to learn more, students also appreciated the additional educational experiences they had while attending the conference.
Student Kurt Deihl said, "I cannot state how much of an honor and privilege it was to receive this grant. I could have never gone to something like this on my own. The educational value for anyone attending this event, especially with me being a freshman, is absolutely incredible. I came out of the event with a much larger understanding on, not just the academic side, but industry as well. I learned so much about technologies and processes that I previously didn't know existed.
"It also gave me a picture of the road ahead as I continue on the next few years with my education," he added. "I can honestly say that the road ahead is a bright one. After talking with many attendees, I can honestly say that there really is no limit to where I can go in the degree path that I have chosen."
Sharing the stage of an international conference with accomplished professionals is also a confidence booster for the students, who are able to see that their efforts make a difference to an incredibly important industry.
"Students are also encouraged to see that their work is worthwhile and acknowledged. It does motivate them to get involved more in undergraduate research, and inspire others to join them," Waryoba said. "At any university, rarely do you see a sophomore student, like Kyle Bear, presenting a paper at a conference and submitting an article to a high-rated journal such as the Welding Journal. This is the caliber of our students."
Over 200 industry experts from around the world presented the latest in PM technology at POWDERMET 2017.