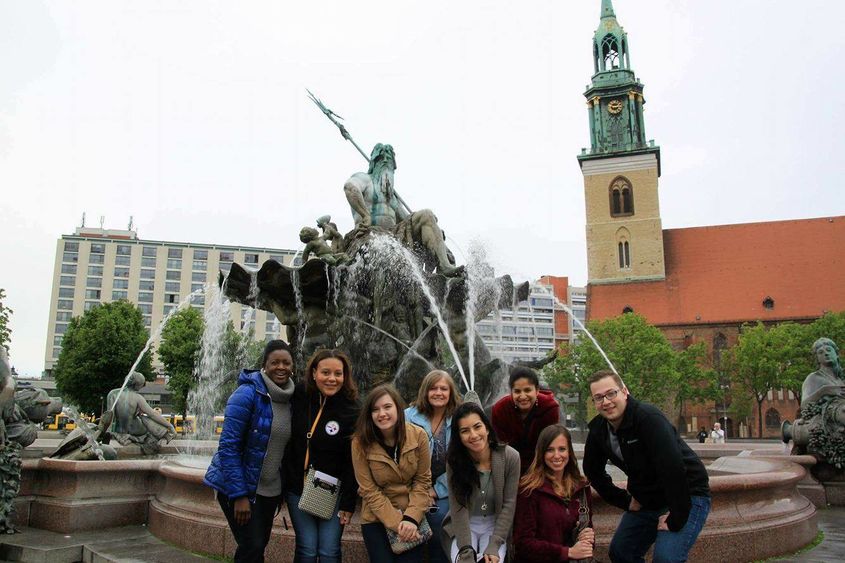 DUBOIS, Pa. — A group of six honors students from Penn State DuBois seized a unique opportunity to bolster their education through international travel this spring. Following the close of the academic year, a faculty coordinator for the honors program, Associate Professor of Economics Evelyn Wamboye, along with Career Services Coordinator Anna Akintunde, oversaw the students on the trip to Berlin, Germany.
"Half of the students who participated in this trip had never traveled outside of North America, and therefore, this was a unique experience for them in that respect," said Wamboye. "But even for those that had previously traveled abroad, a visit to Berlin was very educational in many ways. Germany, and Berlin in particular, has a rich history that resonates with many people around the world."
The mission and vision of the Penn State DuBois Honors Program includes the goal of building a global perspective for students, as well as achieving academic success with integrity, and creating opportunities for leadership and civic engagement, while educating men and women who will have an important and ethical impact on the world. Wamboye said this trip was an exceptional tool that helped to further that mission.
"The students had the opportunity to relive this history through the eyes of very knowledgeable tour guides, Wamboye said. "For example, we had a full day tour of the Sachsenhausen concentration camp, which is on the outskirts of Berlin. Moreover, we visited the location of Potsdam conference that decided Germany's fate after WWII, and the 'Bridge of Spies' in Potsdam. In Downtown Berlin, we had the opportunity to walk down the famous Unter den Linden, visited the Berlin Wall, Brandenburg gate, the Holocaust Memorial, the site of Hitler's bunker, the Reichstag, and Checkpoint Charlie, among others."
The students embraced the opportunity for the learning experiences, as well as the historical and cultural enrichment it provided. Student Lisa Sargent recalled, "Being afforded this opportunity allowed me to venture beyond the four walls of our beloved University and experience the rich culture of another country. Berlin holds so much history within its borders and this trip allowed me to further learn about and appreciate very monumental moments. There are few things more humbling than walking through a concentration camp or running your fingers along the walls of a bullet-ridden building from WWII, and I appreciate Germany's recognition and remembrance for not only the victories, but also the moments we pray are never again repeated."
Fellow honors student Cintia Zwick shared, "Seeing this trip from initial planning and research to reality was amazing. I learned that, more than a war site, Berlin is a place full of diversity, great food and beautiful architecture. It was important seeing historical sites, but the biggest mark Berlin left on me was the German warmth, friendliness and feeling of freedom."
An additional component of the trip that added to the participants' cultural experience was the diversity of the group itself, and their varied nationalities and backgrounds. Zwick comes from Brazil, Saisree Medapally is from India, Wamboye from Kenya, Akintunde from Sweden, and students Austin Sabatucci, Cortney Hedlund, Cathy Provost, and Sargent all from the United States.
"How can you add to that, except to say another honor was being with such a diversified group of students and staff from five different countries and different majors who attend our campus, and getting to know them on a more personal level," student Cat Provost said.
Looking back on the trip, Wamboye said, "At the end of the day, it is my hope that the students took away something from this trip that will be life changing. After all, Penn State DuBois' honors program's vision is to educate men and women who will have an important and ethical influence not only here in the U.S., but also around the world; affecting academic, professional, civic and business outcomes."
This international travel opportunity was made possible by funding through the honors program, as well as the student activity fee.