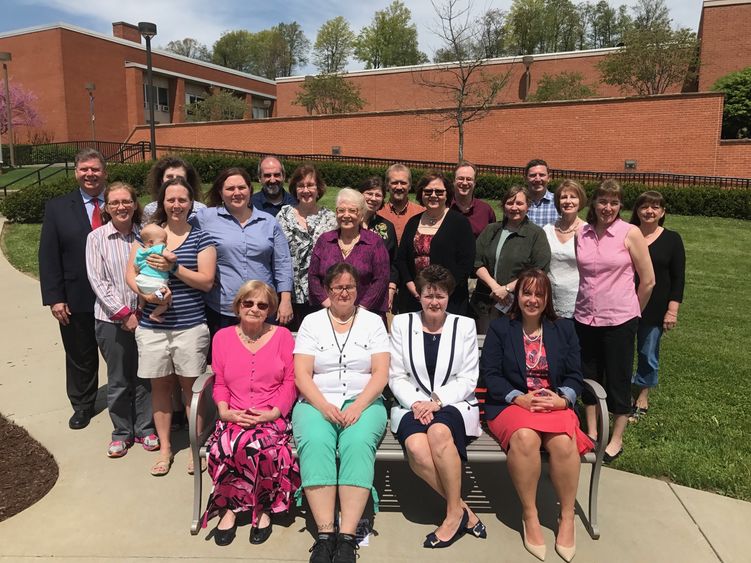 DUBOIS, Pa. — Some faculty and staff members at Penn State DuBois were recognized on April 27 for their length of service to the campus. Penn State DuBois annually recognizes faculty and staff members for their years of employment when they reach personal, five-year milestones.
Those recognized this year, pictured left to right with Chancellor M. Scott McBride are:
Seated: Barb Holt, Student Affairs assistant, 15 years; Lola Smith, instructor in biology, five years; Shelly Luchini, Outreach staff assistant, 20 years; Marly Doty, assistant director of Student Affairs, 10 years.
Standing: Chancellor M. Scott McBride; Heather Parizek, senior instructor in mathematics and geoscience, 15 years; Tammy Ott, instructor in mathematics, 10 years; Emily Thomas, instructor in wildlife technology, five years; Keely Roen, senior instructor in wildlife technology, 15 years; Robert Lobe, professor of forestry and biology, 30 years; Terry Hinton, undergraduate studies coordinator, 10 years; Sylvia Roberts, instructor in English, 15 years; Pamela Huffnagel, assistant professor of education, 30 years; Tharren Thompson, Enrollment Services, 10 years; Mary Mino, associate professor of communications, 30 years; Brian Hart, director of information technology, 20 years; Kathy Neureiter, grants coordinator, 25 years; Steve Harmic, strategic communications, 10 years; Patti Maholtz, enrollment services, 10 years; Michelle Joseph, library, five years; Debbie Wendel, Technical Service, 25 years.