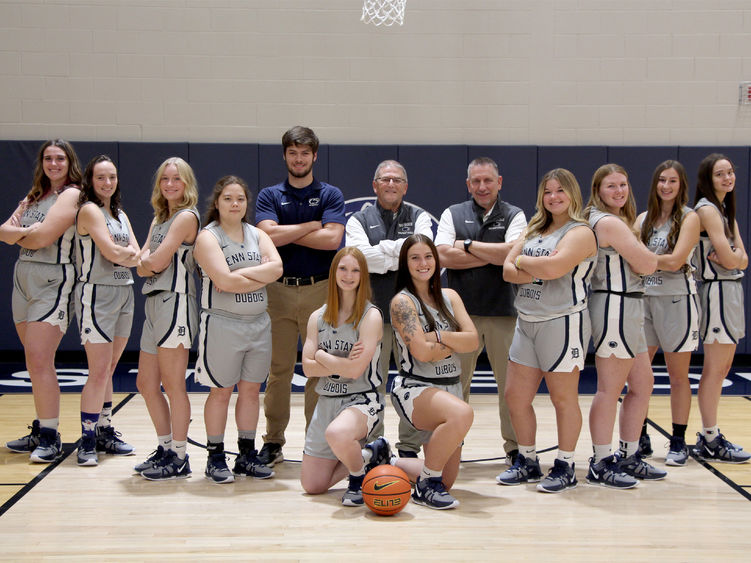 DuBOIS, Pa. — Over the past two weeks, the Penn State DuBois men's and women's basketball teams have hit the ground running as the start of the 2023-24 winter sports season has arrived. After an offseason and a preseason of hard work and preparation, both teams are looking to make an impact on the hardwood this season.
The Lady Lions began their season on Nov. 4 when they traveled to face Villa Maria College at the Villa Athletic Center in Buffalo, New York. In a closely contested matchup that required an extra period to determine the victor, Penn State DuBois emerged with a hard-fought 63-59 win over Villa Maria. The Lady Lions showcased a balanced offensive effort, with Natalie Bowser leading the charge with an impressive 31 points and 14 rebounds. Frances Milliron contributed 13 points and five rebounds, while Rebecca Martin added seven points and five rebounds. Kelsey Stuart and Tara Leamer also made significant contributions, combining for 12 points and 12 rebounds.
The game was also marked by tenacious defense, as Penn State DuBois recorded 10 steals and 12 blocks, with Bowser leading the defensive effort with 11 blocks.  The game featured intense competition throughout, and the overtime period added an extra layer of excitement for the fans in attendance. With this hard-fought victory, Penn State DuBois picked up their first win and started off their season on the right foot.
Head Coach Pat Lewis said, "We played at a high-level tonight especially in the first half.  Every one of our players played extremely well against a quality opponent.  Every time Villa would get on a run, somebody would step up. Natalie (Bowser) set two school records in her first college game with 31 points (previous record of 30) and 11 blocked shots in a game."
On the men's side, the Nittany Lions have had a jammed packed schedule to start the season. Their first game also saw them travel to face Villa Maria College on Nov. 4. In the season-opening clash, Villa Maria secured a 72-61 victory over Penn State DuBois in a competitive matchup at Villa Maria Athletic Center. The Nittany Lions fought hard, with Kaleb Pryor leading the charge with 17 points. Jaiquil Johnson also made a significant impact, contributing ten points and showcasing his skills with three assists. The first half saw Villa Maria take control, securing a 36-25 lead. Despite a spirited second-half effort by Penn State DuBois, Villa Maria maintained their advantage, ultimately closing out the game and securing the win. The game featured intense defensive efforts, with Villa Maria recording six steals and three blocks, while Penn State DuBois forced nine steals and three blocks.
The Nittany Lions then faced Grove City College on Nov. 8; another road matchup that saw them take on the NCAA Division III team head on. In a game that saw Grove City start out with hot shooting right away, Penn State DuBois struggled to find its rhythm, shooting just 39.0% from the field, in an 88-59 defeat in game two of the season. Ashton Fortson was the leading scorer for the Nittany Lions, putting up 15 points, while Jordin Sommers showcased all-around skills with five rebounds and seven assists. Penn State DuBois faced challenges in rebounding, with Grove City outperforming them 46-23 on the boards.
After starting the season with back-to-back road games, the Nittany Lions got the chance to play their first home game of the season on Nov. 11 when they hosted Mount Aloysius at the PAW Center. In a thrilling contest, Penn State DuBois secured their first win of the season in a close-fought battle against Mount Aloysius, with a final score of 69-67. The victory also marked Head Coach Dan Smay's inaugural triumph at the helm of the team.
The first half showcased a closely contested matchup, with the Nittany Lions holding a slight 35-31 lead at halftime. The team displayed resilience and determination, setting the tone for the remainder of the game. Mount Aloysius mounted a strong comeback in the second half, shooting an impressive 56.7% from the field. However, Penn State DuBois weathered the storm, and key player performances, especially from Beau Verdill with 17 points and six rebounds, played a pivotal role in maintaining their lead.
Pryor showcased his all-around skills, contributing nine points, eight assists, and four rebounds, making significant plays on both ends of the court. Fortson, despite facing defensive pressure, managed to add eight points and four rebounds to the team's tally. The three-point shooting game was a key factor for the Nittany Lions, with Christopher Frontera knocking down three triples, contributing to the team's 30% accuracy from beyond the arc. Jadon Myers and Nate Cornelius also made valuable contributions from long range.  Despite a challenging shooting night, Johnson made his presence felt on the defensive end with two steals and added four points. Verdill's efficient shooting, including a 1-2 mark from beyond the arc, and his dominance in the paint with three offensive rebounds, were crucial components of the team's success.
Smay gave credit to the team's heart and defense, "I'm so proud of this group of men to get this win, in this way.  They have worked so hard, and they never quit.  I told them in one of the timeouts when we were down by 6 that we were going to win this game if they just kept fighting, and they didn't quit at all.  We pride ourselves on our defense because that's an effort aspect, and this team gives effort every day."
Both teams return to action this week, including a pair of home games for each team over the weekend. First, the Nittany Lions will travel to Erie for a matchup with NCAA Division II team Gannon University. That game will take place on Wednesday at 7:30 p.m. Then, both the men's and women's teams will return home for a weekend doubleheader, starting with a PSUAC matchup against Penn State York on Friday. The Lady Lions will start at 6 p.m. and the Nittany Lions will follow at approximately 8 p.m. Both teams will then play host to Penn State Mont Alto on Saturday in a key divisional contest in the PSUAC. The women's game is scheduled to begin at 1 p.m. with the men's game following at 3 p.m. at the PAW Center.
For complete athletic schedules visit the Penn State DuBois athletic website at psuduboisathletics.com.