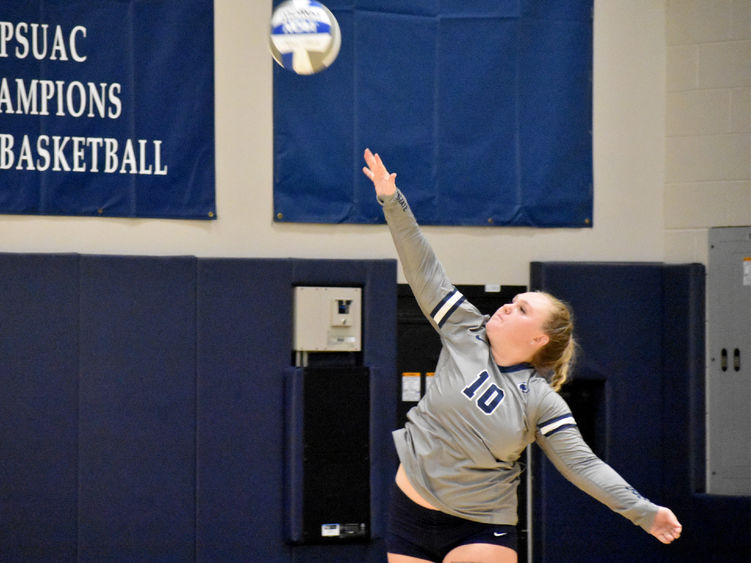 DuBOIS, Pa. — In what can only be described as a team having all desire and no quit, and maybe some Penn State White Out magic, the volleyball team at Penn State DuBois never gave up and completed a come-from-behind win over Penn State New Kensington on Oct. 4 at the PAW Center.
In front of a supportive home crowd celebrating this year's White Out match, the Lady Lions found themselves down two sets to none after two very closely contested sets, with New Kensington taking set one 25-23 and set two 25-22.
Then, inspirited by their coaches and their home fans, Penn State DuBois turned things around, taking the third set 25-22. DuBois and New Kensington then waged an epic battle in the fourth set, with each team going back and forth trying to take control. DuBois eventually came out on top by a score of 27-25.
With the match tied at two sets a piece, the decisive fifth set would be required to determine the winner. DuBois started off strong, scoring the first six points before New Kensington got on the board to trim the DuBois lead to 6-1. Both teams traded points before the Lady Lions worked hard to string together a few series of consecutive points to win the fifth set 15-7, and the match 3-2.
Emma Delp and Hannah Thompson led the way in kills for Penn State DuBois, with 14 and 12 respectively. Delp also led the team with seven service aces and 24 digs in the contest. Danielle Rolley produced 43 assists, to lead the team in that category, while Thompson and Makena Baney also contributed 22 and 19 digs in the winning effort.
The Lady Lions improved their overall record to 3-12 on the season, the first season under head coach Samantha Morgan. The team will return to action on Oct. 7 for a tri-match with Penn State Mont Alto and Christendom, with Mont Alto being the host. The Lady Lions will return home to the PAW Center on Oct. 9 when they host Penn State Greater Allegheny, with the match scheduled to begin at 7 p.m.
For complete athletic schedules and updates, visit the Penn State DuBois Athletics website.