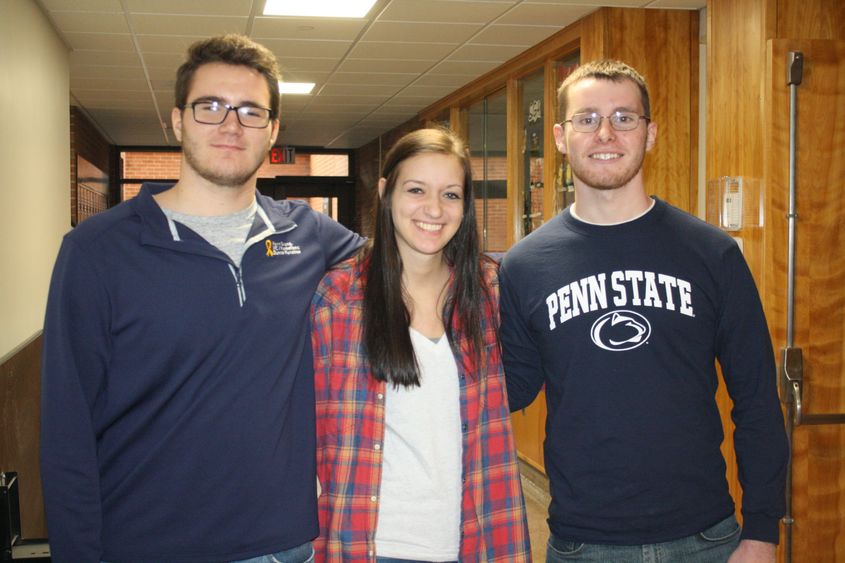 DUBOIS, Pa. — Three Penn State DuBois students are preparing to serve as the official campus dancers at THON 2017, set for Feb. 17-19 at the Bryce Jordan Center at University Park. Jake Coalmer, Chanice Britten and Jacob Skubisz will represent the campus at the 46-hour dance marathon that benefits the battle against pediatric cancer.
This is the first year DuBois has been permitted to send more than two dancers to THON. This year, THON organizers have rewarded DuBois with three dancer spots since the campus THON committee made the 2016 top 10 list of Penn State Commonwealth Campus locations contributing to THON. DuBois came in at No. 9 on the list, and broke the campus record by raising $22,274 toward the University-wide THON total of $9,770,332.
"Our organization is really excited about receiving an extra dancer for THON 2017. This great honor is all thanks to the work our organization members put in last year, breaking the record for most money raised by raising over $22,000," said Greg Myers, Penn State DuBois THON Committee chair and past THON dancer. "When we were first notified, I about almost cried, because this has never happened in our organization's history. When I told alumni from our organization, everyone was ecstatic and overly supportive. This is all thanks to our organization, all the hours they put in planning fundraisers, canning and raising money. We as an organization are very thankful and fortunate to have this opportunity to have an additional person represent Penn State DuBois."
Assistant Director of Student Affairs Marly Doty works closely with the THON Committee as its adviser. "It is a huge honor for Penn State DuBois to have earned three dancer spots this year," she said. "Chanice, Jake and Jacob will be great representatives for the campus, and I'm excited for them to take part in this incredible experience."
Each year, the Penn State IFC/Panhellenic Dance Marathon challenges dancers to stay on their feet for 46 hours to raise money for the Four Diamonds Fund. The event's sole beneficiary, and a leader in the fight against pediatric cancer, the Four Diamonds Fund fills in the funding gaps that insurance leaves for the patients it serves, enabling families to focus on caring for their child. Because of large donors like THON, Penn State Hershey Children's Hospital recruits world-class talent to continue innovative research, and to maintain and expand the state-of-the-art Children's Hospital.
This year's dancers each have their own, individual reasons for getting behind this cause. Britton's motivation is extremely personal. She said, "Last month I had a childhood friend pass away from cancer. So, that's a big reason I am part of THON this year."
Skubisz want to help make a difference for those in need. He said, "We THON to help children in the unfortunate position of suffering from cancer, and for those who have lost their battle and for their memory."
Coalmer added that rallying others to support the cause by setting an example is also part of being involved in THON. He said, "I THON to inspire, just as the children inspire us every, single day."
Students raise funds for THON in a variety of ways. They hold dinners, Bingo fundraisers, solicit donations, and hold a hair auction each year where volunteer to get their hair cut if bidders reach an established reserve.