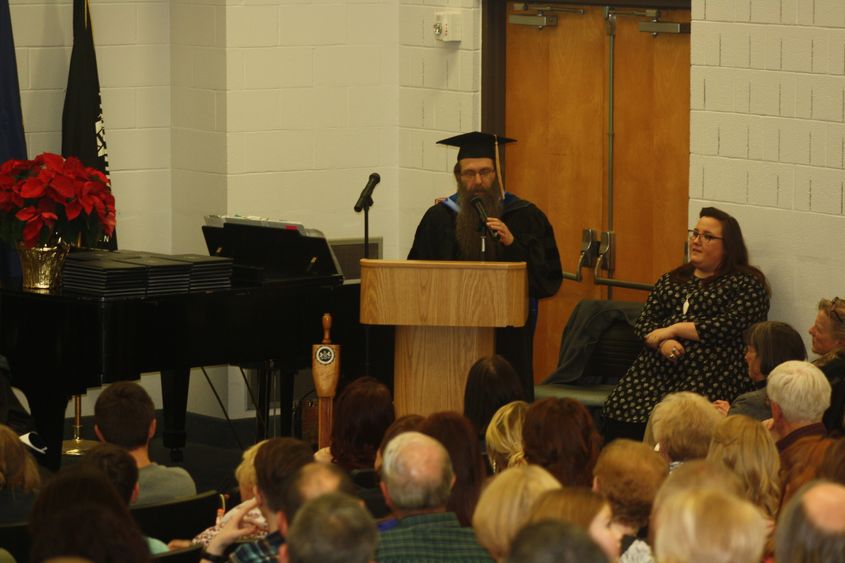 DUBOIS, Pa. — Fall commencement ceremonies were held in Hiller Auditorium at Penn State DuBois Thursday evening. The commencement address was offered by Instructor in Mathematics John Tolle. Named the 2016 DuBois Educational Foundation Educator of the Year, Tolle began teaching at Penn State DuBois in 2008 after serving for 12 years as lecturer of mathematics at Carnegie Mellon University in Pittsburgh.
"It's an oversimplification to view college as simply training for a career, or a vehicle to a higher-paying job. Its value is much more comprehensive than that," Tolle said. "For one thing, when any prospective employer sees that you have a college degree, that fact alone, regardless of one's major or the particular curriculum undertaken, shows that you are the kind of person who is capable of setting a goal, and carrying it to completion. A degree provides definitive proof that you can do that. A degree, of any kind, shows that you know how to balance responsibilities. You know how to manage your time well. You know how to juggle a diverse set of requirements simultaneously.
"You have at least some tolerance for necessary, required tasks even when they don't appeal to your particular interests. You are responsible. You stick to your commitments. When challenged, you meet the challenge, overcoming any trepidation it might cause you, and you do your best."
Tolle earned his bachelor's degree in mathematics secondary education from Asbury College in Wilmore, Kentucky in 1989. He attended graduate school at the University of Kentucky while serving as a teaching assistant, and went on to earn his doctorate at the University of Kentucky in 1996.
While at Penn State DuBois, Tolle and a colleague created two math courses specifically tailored to the needs of campus engineering students, and continue to teach those courses each year. He has furthered his impact as an educator by leading students on educational honors program trips to various destinations, and taking students to the annual conference of the Allegheny Mountains Section of the Mathematical Association of America.
Tolle is a member of the campus Green Team, and has twice sacrificed his hair and beard for the THON Hair Auction. He has been the recipient of Students' Choice Service Award in 2016, as well as the Susan Waitkis Students' Choice Award in 2012. He served as coordinator for the campus honors program from 2010-2016, and has served on Faculty Congress as both secretary and chair.
"Any time in the future that you find a dream taking hold of you, you will know that if you want it enough, you can achieve it. You can realize it. You did this. You can do that, too," Tolle said to the graduates.
In closing, he remarked, "Congratulations. You've earned it. At this point I could say, 'Go and make the University, and your families, proud.' But you've already done that. We're already proud of you. So instead I'll say, go now and formulate your own standard for what a good life, and for what success, means for you. And then insist on it for yourself. You have the tools to make it happen, and you've shown you have the determination. Because again, you've met this goal, and now you have your degree as an eternal reminder that you can meet any others that you might want earnestly enough."
Fall 2016 graduates of Penn State DuBois are:
For the Degree of Bachelor of Arts
Letters, Arts and Sciences (LASCC)
Taylor Walborn Brookville, PA
For the Degree of Bachelor of Science
Business (BSBCC)
Lindsay Buscatto DuBois, PA
Jessica Czekai (Cum Laude) Penfield, PA
Caitlyn Holley Saint Marys, PA
Jennifer Lenze Saint Marys, PA
Human Development and Family Studies (HFSCC)
Lauren Anderson (Magna Cum Laude) DuBois, PA
Raymond Gascon (Cum Laude) Weedville, PA
Brittany Johnson (Cum Laude) Brockway, PA
Justina Powers Brockway, PA
Amber Siverling (Summa Cum Laude) DuBois, PA
Information Science and Technology (ISSCC)
Scott Caltagarone Reynoldsville, PA
Vincent Deloia DuBois, PA
College of Earth and Mineral Sciences
For the Degree of Bachelor of Science
Earth Sciences (EARTH)
Clinton Goodwin Brockway, PA
Howard Hartzfeld DuBois, PA
Candidates for Degrees for the Degree of Associate in Arts and the Degree of Associate in Science
University College
For the Degree of Associate in Arts
Letters, Arts and Sciences (2LACC)
Lauren Sedor (Cum Laude) DuBois, PA
For the Degree of Associate in Science
Business Administration (2BACC)
Julia Test (Summa Cum Laude) Curwensville, PA
Human Development and Family Studies (2FSCC)
Kelsey Fritz Saint Mary's, PA
Nicole Harshbarger Saint Mary's, PA
Information Science and Technology (2ISCC)
Ian Claycomb (Magna Cum Laude) Grassflat, PA
Dylan Clingan DuBois, PA
Mechanical Engineering Technology (2MET)
Christina Mahlon Reynoldsville, PA
Occupational Therapy (2OTCC)
Juliann Boddorf (Cum Laude) Ringgold, PA
Carley Boice (Cum Laude) Chicora, PA
Victoria Calhoun (Magna Cum Laude) Sykesville, PA
Jessica Clark Clarion, PA
Patricia Fabish Port Allegany, PA
Occupational Therapy (2OTCC) continued
Julie Fiedor Penfield, PA
Robin Foltin (Cum Laude) Clearfield, PA
Sarah Fournier State College, PA
Larissa Ginther (Cum Laude) Weedville, PA
Kandi Goodreau DuBois, PA
Ashlee Johnston Saint Mary's, PA
Jessica Kenyon Brookville, PA
Cassidy Lenox Kersey, PA
Donna Massari Clearfield, PA
Katelyn McClure Altoona, PA
Brianna Marie Nussbaum (Magna Cum Laude) Saint Mary's, PA
Brenda Quairiere (Cum Laude) Brookville, PA
Ashley Reitz Punxsutawney, PA
Lauren Sedor (Cum Laude) DuBois, PA
Michelle Shick (Cum Laude) Marion Center, PA
Sadie Viglione Kersey, PA
College of Agricultural Sciences
For the Degree of Associate in Science
Wildlife Technology (2 WLT)
Chelsea Beck Kersey, PA
Danielle Kaufman Cowansville, PA
Donna Morello Brookville, PA
Timothy Smith (Cum Laude) State College, PA