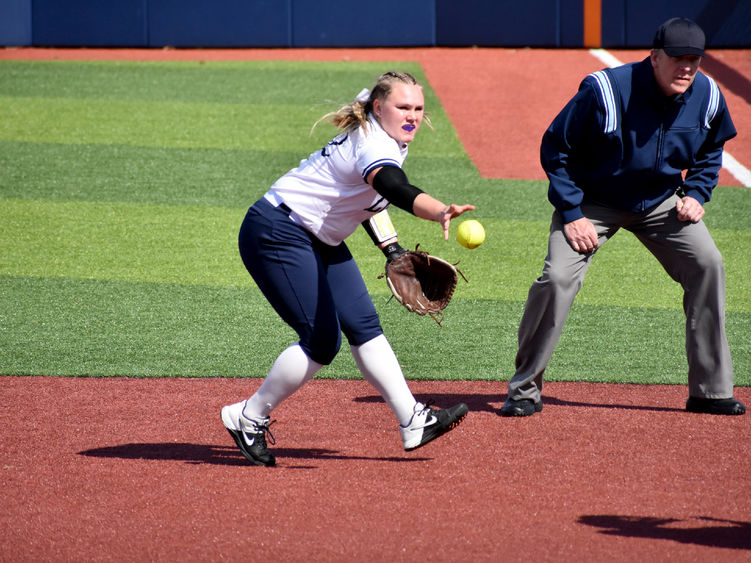 DuBOIS, Pa. — Ups and downs, highs and lows. Every sports team goes through them at some point in its season. For the baseball and softball teams at Penn State DuBois, those ups and downs have shown up at the start of the season. But both teams are keeping their heads up and driving forward to find the highs and limit the lows.
After dropping two games to Penn State Mont Alto at home, the baseball team at Penn State DuBois started off last week by traveling to Mont Alto for two games on Tuesday. In the first game, offensive struggles led to DuBois scattering five hits and only scoring one run. The Nittany Lions scored first, bringing home that lone run in the top of the third when Colby Bodtorf drove in Kyle Elensky. While DuBois' pitching did well, Mont Alto scored four runs in the final three innings and got the win in game one by a score of 4-1.
Game two of the day saw Mont Alto take an early one run lead in the bottom of the first. After that, a strong pitching duel was had between the two teams, with neither scoring again until the seventh inning. In the top half of the seventh, DuBois scored two runs when Logan Wagner reached base on an error that allowed Bryce Dobson and Grant Lillard to score to give the Nittany Lions a 2-1 lead. DuBois couldn't make that stand up, however, as Mont Alto scored a run on a sacrifice fly in the bottom of the seventh to force the game into extra innings tied at 2-2. After a scoreless top half of the eighth, Michael Scott stepped up to the plate for Mont Alto and smacked a solo home run over the centerfield fence to win the game by a score of 3-2. Connor Cherry pitched well for DuBois, only allowing one earned run on three hits in 5.2 innings. Dobson also collected two hits for the Nittany Lions in the losing effort in game two.
Penn State DuBois returned home on Thursday to face Thiel College at Showers Field. In a game that can only be described as an offense lover's dream, DuBois and Thiel combined for six different half innings in which at least three runs were scored. After a scoreless first inning, both teams scored three runs in the second. Thiel matched that effort by scoring three more runs in the top of the third. But the Nittany Lions answered back with seven runs of their own in the bottom of the third to take a 10-6 lead into the fourth. DuBois added to its lead in the sixth, seventh and eighth innings without answers from Thiel and the Nittany Lions led by a score of 15-6 heading to the final inning. Thiel did make a comeback attempt, scoring four runs in the top of the ninth, but it wouldn't be enough, and DuBois would hold on to win by a final score of 15-10. Seven different Nittany Lions drove in runs in the game, with Hayden Vaughn leading the way with four RBIs, Cory Lehman drove in three RBIs, and Jeff Romano brought in two in the game as well.
The Nittany Lions finished off the week by hosting Penn State Fayette for a double header on Sunday. The teams saw split results, with Fayette taking game one by a score of 11-7, and DuBois winning game two 13-11. Game one saw Lillard, Dobson and Brett Beith each have a multi-hit game. Dobson also drove in two RBIs in game one. Lillard also had a strong game in the second game of the day with two hits, two RBIs, and two runs scored.
On the softball field, the Lady Lions of Penn State DuBois traveled to Penn State Greater Allegheny for a pair of games on Wednesday. Game one saw DuBois combine a great offensive effort with a strong pitching performance from Kelsey Stuart to secure a 10-1 victory in five innings. Stuart pitched all five innings for the Nittany Lions, only allowing one run on four hits while striking out six to get the win. Stuart and Abby Pentz each had three hits offensively in the game, with Pentz and Shyanne Lundy each driving in three runs in the win as well.
Game two saw the hot hitting continue for DuBois, scoring 25 runs on 21 hits in another five-inning victory for the Lady Lions by a final score of 25-2. Caitlyn Watson got the win for DuBois on the hill, allowing six hits, two runs and striking out six in her five innings of work. On the offensive end, she also got on base six times, combining a four-hit game with two walks while scoring five times and driving in six RBIs in the winning effort. Pentz, Lundy, Stuart, Chelsea Busatto and Makena Baney each had a multi-hit game for the Lady Lions.
Penn State DuBois softball then traveled to Penn State Schuylkill for two games on Sunday. In game one, the Lady Lions got the scoring started, bringing home a run in the top of the second inning when Stuart grounded out to first, bringing home Lundy in the process. Schuylkill responded in the bottom half of the inning, bringing home six runs before the inning was complete. The Lady Lions cut into the lead in the third, fifth and sixth innings, but they couldn't fully recover and fell to Schuylkill, 6-5.
Game two saw DuBois come out hot offensively, scoring four runs in the top of the first inning with Pentz, Watson, Stuart and Paige Pleta each driving in runs. A great pitching performance from Megan Hyde also highlighted the game, only allowing two runs on six hits that helped the Lady Lions get the win by a final score of 5-2.
Both the baseball and softball teams return to action today (April 3), with the Nittany Lions traveling to Penn State Fayette for a doubleheader to finish off their home and home series. The first game is scheduled to begin at 2 p.m. They will return home on Friday to play a double header with Penn State Greater Allegheny at Showers Field. First pitch is scheduled for 6 p.m. DuBois and Greater Allegheny will then finish off their season series on Saturday when both teams will travel to Pullman Park in Butler for an afternoon doubleheader starting at 1 p.m.
The Lady Lions are scheduled to have a busy week on the field, starting today when they travel to Penn State Brandywine for a doubleheader this afternoon starting at 1 p.m. DuBois is then scheduled to host Penn State Mont Alto for a doubleheader on Saturday afternoon, with the first pitch scheduled for 2 p.m. for game one.
All games for both the baseball and softball teams are subject to change based on weather and field conditions. Games can also be added, canceled or changed based on team availability, player availability and scheduling conflicts when conference games are rescheduled. For complete athletic schedules, including changes to both the baseball and softball schedules, visit the Penn State DuBois Athletics website.