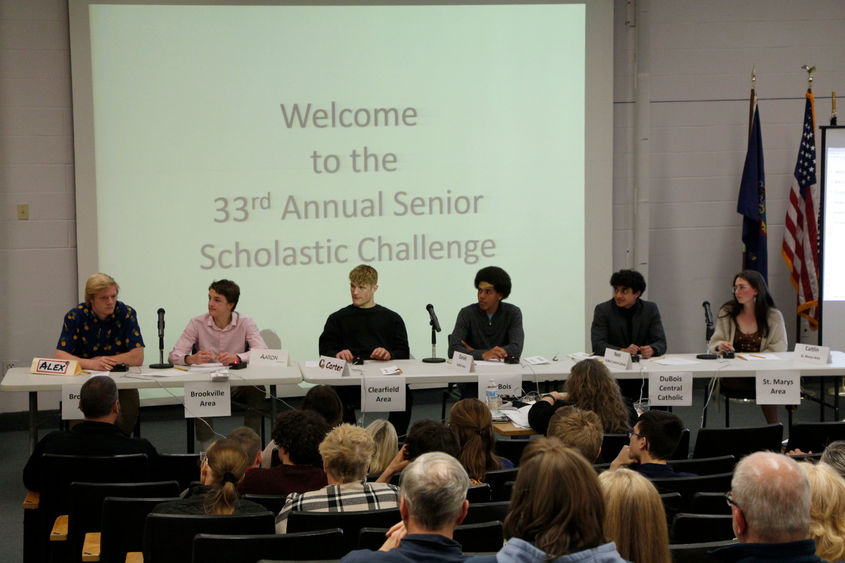 DuBOIS, Pa. — High school students from numerous schools in the region came to Hiller Auditorium at Penn State DuBois on Thursday for the 33rd annual senior scholastic challenge. Six schools were represented at the event, which tested knowledge in numerous subjects.
The event has been organized by Carol Foltz of Coldwell Banker Developac Realty for many years and made its triumphant return after being away because of restrictions caused by the pandemic. Foltz's tireless effort brought about the event's return and Penn State DuBois was honored to host such an amazing event for the students in the community.
Brockway, Brookville, Clearfield, DuBois, DuBois Central Catholic and Saint Marys each had students representing their schools in the competition, which was kicked off by master of ceremonies Brittany Madera with an introduction of all the team members and an explanation of how each round would work in the competition. Sage Hoppe, student and competitor from Clearfield, then gave a rousing rendition of the national anthem before Jungwoo Ryoo, chancellor and chief academic officer, and Melissa Duttry, director of enrollment services at Penn State DuBois, each gave a welcome message to everyone in attendance and share some insight into the campus and what Penn State DuBois has to offer its students.
The evening began with four preliminary rounds with each school being represented by one of their team members. Each round contained 30 questions, with the first student buzzing in and answering correctly receiving 10 points from their team. After the completion of all the preliminary rounds, the four teams with the highest total points would move into the finals, were the scores for each team would reset and the highest total team points at the end of the two final rounds would win the competition.
Highly competitive rounds were the theme throughout the evening. After the first round, DuBois Central Catholic held a 10-point lead over Brockway and Saint Marys, but each team was within 50 points of the lead. Saint Marys pulled even with DuBois Central Catholic after the second round, with both teams tied at 80 points. Brookville wasn't far behind either, with 60 points.
The third round was a remarkable one that saw the two highest individual scores happen together, with both Mathue Volpe of DuBois Central Catholic and Hoppe of Clearfield both score 80 points for their teams. Volpe's effort gave DuBois Central Catholic the overall lead with 160 points heading into the final preliminary round. Saint Marys also held a strong second place position with 120 points. The fourth and final preliminary round saw Brookville make a charge up the leaderboard with a round high score of 60 points, taking their total to 120 points. That was good enough to tie Clearfield and give both teams a spot in the finals. DuBois Central Catholic scored the most points in the preliminary rounds with 170 points total. Saint Marys placed second with 140 points.
In the two final rounds, each school that qualified sent up two team members. While each school was represented by multiple students, they would each be working independently and couldn't work together to find the correct answers. 10 points would be added to each team's total for a correct answer, while five points would be taken away for each incorrect answer that was given.
DuBois Central Catholic pulled out to the lead with 70 points in the first round of the finals, but Brookville wasn't trailing far behind them with 65 points. Clearfield secured 45 points in the first round as well, and Saint Marys rounded out the scoring with 35 points.
Round two of the finals saw the overall lead change several times, with all four schools making charges towards the front at different points. Once all of the questions had been asked and answered, Brookville used steady performances through both final rounds to secure 115 points and the senior scholastic challenge title. DuBois Central Catholic finished in second place with 105 points, Clearfield came in third place after scoring the most team points in the round to bring their team total to 100 points and Saint Marys finished in fourth place with 75 points.
Members of the team from DuBois were (listed in alphabetical order):
Hamound Ali
Daniel Chichava
Cayden Hoogeveen
Jay Parekh
Advisor Chris Taylor
Members of the team from Brockway were (listed in alphabetical order):
Chloe Benden
Alex Carlson
Taylor Rhed
Madelyn Schmader
Seth Stewart
Advisor Erin Shofestall
Members of the fourth-place team from Saint Marys were (listed in alphabetical order):
Caitlin Blessel
Desirae Mertz
Killian Ramsey
Gianna Surra
Matthew Wehler
Advisor Jamie Caskey
Members of the third-place team from Clearfield were (listed in alphabetical order):
Bryndin Chamberlain
Carter Chamberlain
Sage Hoppe
Cody Taylor
Alex Wriglesworth
Advisor Barb Spila
Members of the second-place team from DuBois Central Catholic were (listed in alphabetical order):
Sara Boland
Barak Clouser
Neel Gupta
Conner Siple
Mathue Volpe
Advisor Andy Rice
Members of the first-place team from Brookville were (listed in alphabetical order):
Sorren Morelli
Sergio Sotillo
Rees Taylor
Aaron Turner
Advisor Melinda Burton
Awards were also presented to the individuals who score the highest number of points for their teams in the preliminary rounds and the finals. For the preliminary rounds, Hoppe of Clearfield and Volpe of DuBois Central Catholic both received awards after they tied for the highest score, both with 80 points. There was also a tie for the finals rounds as well, with Sergio Sotillo of Brookville and Conner Siple of DuBois Central Catholic both answering the same number of questions in the finals correctly.