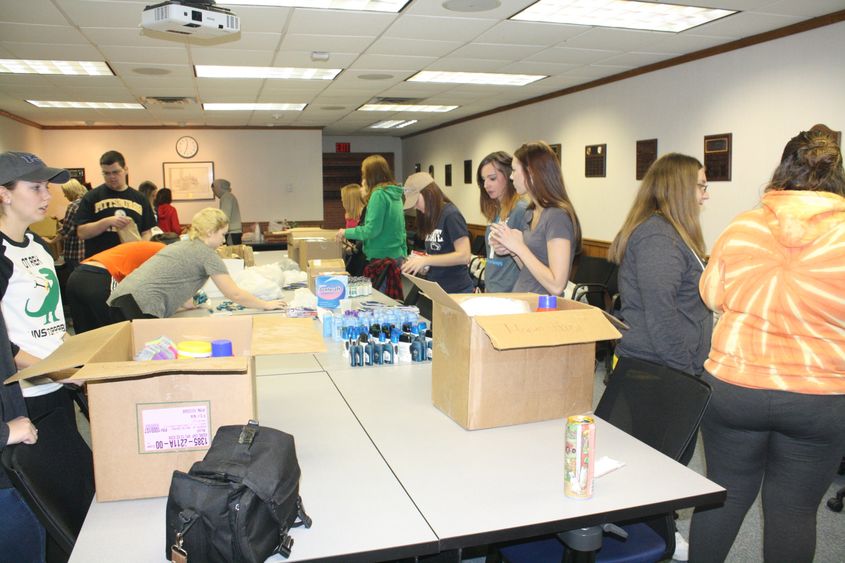 Some Penn State DuBois students have given area families something extra to be thankful for this Thanksgiving. Human Development and Family Studies (HDFS) students took on a project through the HDFS Club to distribute Thanksgiving care packages to homeless shelters throughout the region. The packages included food items for Thanksgiving dinners, cleaning supplies, personal hygiene products, and more.
Other student clubs also joined the effort, contributing supplies, and the Delta Mu Sigma Honor Society helped to fund the project. HDFS Club President Emi Brown came up with the idea in order to help those in local communities that are in need. She and fellow club members gathered donations of items for the care packages, and assembled the packages on campus before distributing them to shelters in DuBois, Punxsutawney, Clearfield, Ridgway, and State College. They prepared enough donated items for each shelter to receive a total of 15 packages, which will serve up to 120 people in all.
Members of the Delta Mu Sigma Honor Society also stepped up and donated a portion of the proceeds they brought in during the society's haunted house. Their monetary donation was used to by hygiene products and cleaning supplies for the care packages.
"Homelessness is a big problem, and we wanted to do something locally to help," said Brown. "We found out that a lot of shelters close down due to lack of supplies or limited room, so we wanted to help them however we could over the holidays."
HDFS Club member Alaina Shaffer said, "We saw the need in our communities and felt it was our duty to take action during this holiday season. Anything we can do to help, we will. I definitely feel privileged that I'm able to do this. I know if I were in this situation, I would appreciate the help."
Jessica Clontz is an instructor in the Penn State DuBois HDFS program, and adviser for the HDFS Club. Because the program educates students to enter careers in counseling and other human services, Clontz noted that this undertaking not only helps those in need, but also provides hands-on learning opportunities for her students.
Clontz said, "This experience helped students recognize the needs of their local communities and develop strategies that assisted in meeting those needs. Students also developed stronger interpersonal skills as they planned and coordinated responsibilities. Completing this project required students to apply the skills they learn in their classes to the real world. The project was also a collaboration across campus; therefore, students from various degree programs worked as a team to achieve a unified goal."
Clontz also commended the students for stepping up to help others. "This service project speaks volumes about the integrity and thoughtfulness of PSU DuBois students. The project was initially an idea of the Human Development and Family Studies club to help local individuals residing in shelters during the holidays. Once word got around campus about the idea, several students asked if they could help as well.
Soon, many clubs and organizations on campus were coming up with ways to help fund raise, donate items, and disperse the care packages to the local shelters," Clontz explained. "Participation in the project was completely voluntary and student-driven. I am continually amazed at how compassionate the students are and their motivation to make a difference in our communities."
As student Brittany Johnson explained, making that difference brings its own reward. "We know there are people struggling in our community. When you call these shelters and offer help, you'll never hear someone so grateful. It's a great feeling to help right here in our local communities."