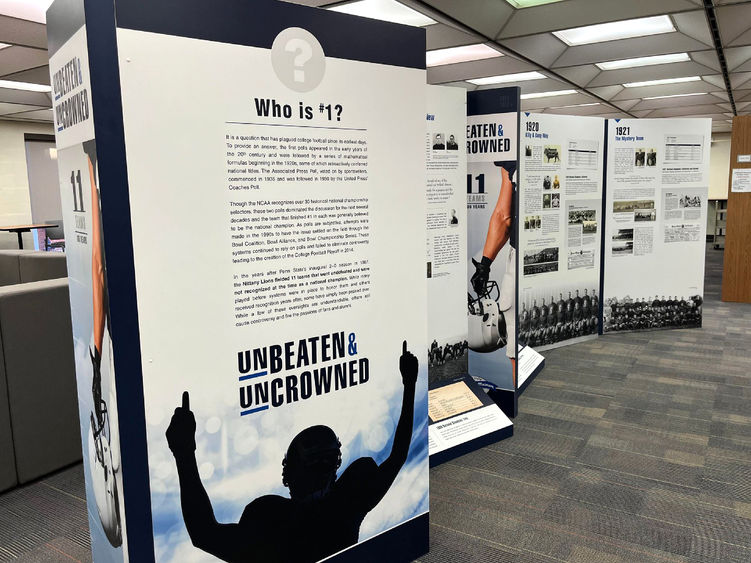 DuBOIS, Pa. — The Penn State DuBois Library is hosting the Penn State All-Sports Museum exhibit "Unbeaten & Uncrowned: 11 Teams 100 Years," now through Jan. 9, 2023. The exhibit is open to the public.
Opened at University Park in April 2019, "Unbeaten & Uncrowned" chronicles the history of the 11 Nittany Lion football teams that went undefeated and were not recognized at the time as national champions. While many of the teams played before systems were in place to honor them and others received recognition years after, some were simply passed over. While a few of these oversights were understandable, others still cause controversy and continue to fire the passions of fans and alumni.
"Unbeaten & Uncrowned" examines these teams and highlights both their seasons and the remarkable players who led them to greatness. The exhibit takes visitors back to 1894 and introduces them to the remarkable Charlie Atherton, who is credited with taking the first place-kicked field goal, as well as to 1909, 1911 and 1912 when College Football Hall of Famers Pete Mauthe, Dexter Very and Shorty Miller roamed the field for the Nittany Lions.
Visitors also will learn about the 1920 and 1921 squads directed by famed quarterback Glenn Killinger. The exhibit includes the inspirational story of the 1947 Nittany Lions, which took a stand against racial prejudice and desegregated the Cotton Bowl. 
Also featured are the legendary 1968 and 1969 teams, which posted back-to-back 11-0-0 seasons and were powered by a multitude of all-time great Penn Staters. They are followed by the juggernaut 1973 and 1994 squads, the former containing Heisman Trophy winner John Cappelletti and the latter one of the greatest offenses to ever play college football.
The Penn State DuBois Library is open to the public Monday through Friday from 8 a.m. to 4 p.m. but will be closed the week of Thanksgiving and during winter break.