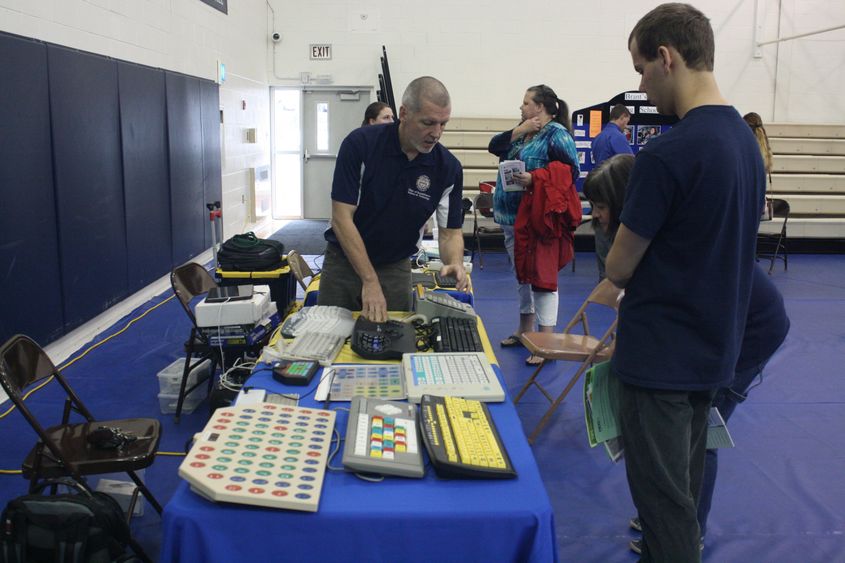 DUBOIS, Pa. — Hosted by the campus Occupational Therapy Club in conjunction with the Office of Vocational Rehabilitation (OVR), an Assistive Technology Fair was held at Penn State DuBois on Wednesday, Nov. 9. The event featured a dozen vendors from around the area who offer specialized equipment to assist people with special needs in completing tasks around their home, in the classroom, or at work.
The fair was open to the public, and featured live demonstrations of devices, as well as opportunities to learn how to properly evaluate assistive technology needs. Representatives from local providers, as well as OVR, were also on hand to provide consultation and information. Featured equipment included wheelchairs and lifts, specialized keyboards and other computer equipment, household upgrades, such as accessible bathroom fittings, and more.
Organizers hope members of the public who have needs for such information and devices could benefit from a one-stop environment where they could gather information. LuAnn Demi, senior instructor in the Occupational Therapy Assistant (OTA) program at Penn State DuBois said the students who organized the event, all OTA majors, also saw educational benefits.
"Students in OTA learn about assistive technology and how it benefits people with disabilities, but you can only teach so much in the classroom. This event lets them see and try out the equipment for themselves, so they can experience how it works and then better explain these devises to future clients."