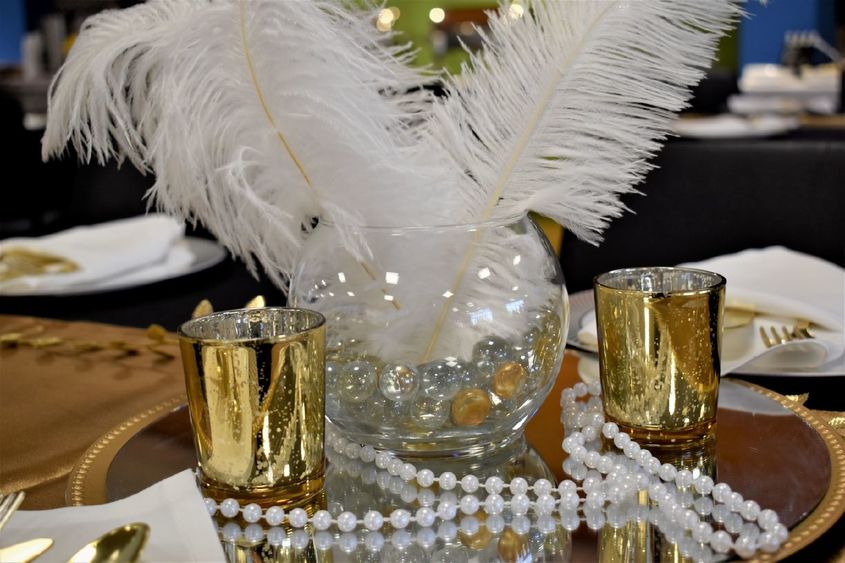 DuBOIS, Pa. — The Hiller Student Union transformed into an "Old Hollywood" themed banquet to recognize the academic achievements, involvement in clubs, organizations, leadership initiatives, and intercollegiate athletics. The Recognition and Awards Banquet celebrated the return to in person events by combining the Student Government Association Banquet and the Honors Convocation events into a single congratulatory evening. Students, faculty, and staff dressed for the occasion in sequins, feathers, and even a couple of bowler hats.
Rebecca Pennington, director of student affairs, began the program for the evening with a sad announcement: Marcie Brubaker, a beloved member of the student engagement team as the assistant student engagement coordinator, passed away suddenly the night before. Brubaker was a light for the Penn State DuBois campus community and the greater DuBois community at large and will be deeply missed, said Pennington in her remarks.
Jungwoo Ryoo, chancellor and chief academic officer, joined the proceedings by video, "I am always excited for this time of the year to share in celebrating the hard work and dedication all you have given to the campus and community and to your dedication to scholarship and learning outside the classroom.  Your commitment to volunteering to our community, the campus and to your organizations is amazing."
Student Awards
Eric A. and Josephine Walker Award: Nathan Murarik
Laurel Award: Elise DuFour
John and Veda Black Award: Elise DuFour
Terry Hartman Community Service Award: Haley Rummel
Student Affairs Award: Hannah Oakes
Student Athlete Leader Award: Lukas Salvo
Outstanding Adult Learners: Haedan Allbeck, Lisa Craggs, Scot Coble, Ray Cunningham, Karen Emmerich, Brook Grove, Christina Haag, Kristen Mahle, Kelsey Makin, Austin Miller. Deborah Schatz
Orientation Leaders: Elise DuFour, Austin Miller, Autum Monaco, Nathan Murarik, Khushi Patel. Haley Rummel, Rachel Russell, Justice Williams
Summer Leadership Experience: Elise DuFour, Cayleigh Huffman. Larissa James-LaBranche, Skylar King, Nathan Murarik, Khushi Patel
Leaderquest: Louise Bennett, Elise DuFour, Emalee Horner, Iris Larson, Austin Miller, Hannah Oakes, Emily Roush
Behrend Leadership Conference: Alicia Bryan, Elise DuFour, Jacob Ebel, Breanna McCahan, Austin Miller, Nathan Murarik, Christian Pryde, Jeremy Rose, Emily Roush, Karter Witmer
Lion Ambassadors: Haeden Allbeck, Laurie Enders, Isaac Gray, Hailey Kinley, Emily Roush, Luke Salvo, Casey Serine, Elyse Spehalski, Levi Thompson, Dylan Treaster, Riley West
Certified Peer Educators: Ayomide Adedeji, Hannah Allen, Taylor Charles, Brook Grove, Dakota Hetrick, Skylar King, Erin Kopp, Anna Raffeinner, Emily Roush, Kyrsten Ruch, Lukas Salvo, Dominic Torretti, Karter Witmer
Alumni Mentor Awards: Khushi Patel, Kristen Mahle, Brenden Ching
Top 5 Most Involved Students: Nathan Murarik, Austin Miller, Elise DuFour, Emily Roush, Anna Raffeinner
Club Members of the Year: Astronomy Club – Breanna McCahan; Business Society – Taylor Charles; Criminal Justice – Rachel Russell and Tamara Selzler; Campus Activities Board – Anna Raffeinner; Delta Mu Sigma – Paul Brosky, Taylor Charles, Larissa James-LaBranche, Lukas Salvo, & Dylan Treaster; HDFS Club – Brook Grove; OT Club – Kelsey Makin;  Student Government – Upperclass: Austin Miller, First Year: Brendan Ching; THON – Haley Rummel; Club of the Year – THON;
The President's Walker Award: Sara Allaman, Louise Bennett, Donald Crabtree, Jacob Ebel, Garrett Fischer, Kayden Grubbs, Emily Hanes, Lilia Lion, Graham Lott, Kristen Mahle, Allison Meko, Eliza Neal, Alexis O'Kane, Lucy Scheffler, Megrah Suhan, Riley West
The Evan Pugh Scholar Senior Award: Dylan Treaster 
Associate/Baccalaureate Freshmen: Louise Bennett, Donald Crabtree, Jacob Ebel, Garrett Fischer, Kayden Grubbs, Lilia Lion, Graham Lott, Kristen Mahle, Allison Meko, Eliza Neal, Alexis O'Kane, Megrah Suhan, Riley West  
Baccalaureate Sophomores: Emalee Horner, Khushi Patel
Baccalaureate Upperclassman: Dylan Treaster
Academic Excellence in Human Development and Family Studies: Cayleigh Huffman
Business Administration, Outstanding Junior Award: Larissa James-LaBranche
Harry J. Charlesen Outstanding Associate Degree Student: Justice Williams
Wildlife Technology Agricultural Alumni Outstanding Student: Karter Witmer
Daniel T. Wanless Award: Laurie Enders
Sherwood S. Stutz Award: Haeden Allbeck 
Academic Excellence Award in Administration of Justice: Daniel Torok
Outstanding Achievement Award in Administration of Justice: Layton Yarus
Academic Excellence in Information, Science & Technology: Nathan Murarik 
Academic Excellence in Mathematics: Dylan Treaster
NCPA Launchbox/Entrepreneur: Dylan Treaster
Women's Studies Award in Academic Excellence: Corrin Kanour
Outstanding Academic Achievement in Engineering: Devin Carns
Outstanding Academic Achievement in Engineering, Applied Material: Tyler Stitt
Occupational Therapy Academic Excellence Award: Alexa Shick
Physical Therapist Assistant Academic Excellence Award: Amanda Kucic
Honors Scholars Program: Alicia Bryan, Taylor Charles, Jacob Ebel, Laurie Enders, Garrett Fischer, Isaac Gray, Kayden Grubbs, Sydney Kaschalk, Tara Leamer, Nathan Murarik, Lilyan Rahalla, Rachel Russell, Lukas Salvo, Dylan Treaster, Maynard Weidman, Larissa James-LaBranche, Blaze Welpott
Honors Program: Eileen Cox, Anna Raffeinner, Caleb Thompson, Levi Thompson, Riley West 
Delta Mu Sigma Honors Society Inductees: Rachel Allegretto, Hannah Allen, Makena Baney, Julia Bashline, Alicia Bryan, Connor Cherry, Jeremy Clawson, Donald Crabtree, Elise DuFour, Isaac Gray, Brook Grove, Madisyn Hess, Jason Hetrick, Jenna Kavelak, Daniel Kunselman, Iris Larson, Tara Leamer, Hayley Matter, Breanna McCahan, Abigail McCracken, Allison Meko, Derek Mohney, Braden Mohney, Nathan Murarik, Hannah Oakes, Sarah Peters, Anna Raffeinner, Emily Roush, Lenny Swisher, Ashwin Upadhyaya, Maynard Weidman, Tyler Youh
Community Awards
Business of the Year: Brockway Floral Boutique
Award of Appreciation: Marianne & Hank Webster
Alumni Mentors: Chris Beretsel, Jana Sharlow, John Peterson
Faculty and Staff Awards
Students Choice Service Award: Fred Groh
Club Advisor of the Year: Marcie Brubaker
Lion's Pride Award: Brittany Stanton
Excellence in Academic Advising: David Bish
Please visit Penn State DuBois Facebook for a gallery of photos.