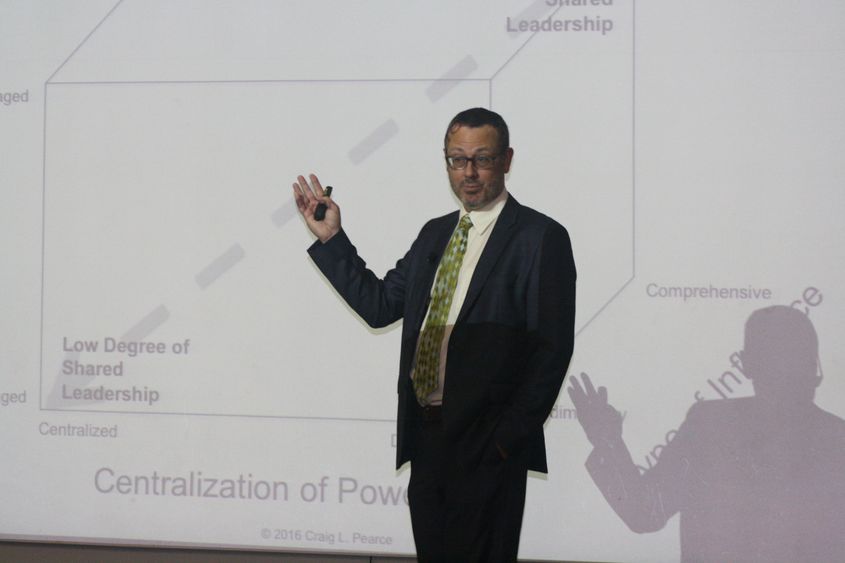 DUBOIS, Pa. — Leadership expert and Penn State Alumni Fellow Craig Pearce visited Penn State DuBois on Friday October 28, offering a presentation on his strategies for shared leadership. According to Pearce, implementing shared responsibility for leadership throughout the reporting structure of a business or organization improves overall operation and productivity.
Pearce is the Ben May Endowed Chair of Management at the University of South Alabama, and maintains an advisory position at MEF University in Istanbul, Turkey. He also works as an international management consultant and keynote speaker, specializing in executive leadership development.
Pearce received the Alumni Fellow Award during a ceremony at University Park earlier in the week. The award of the lifelong title of Alumni Fellow is the highest award given by the Penn State Alumni Association. Alumni are nominated by a college or campus as leaders in their professional fields and accept an invitation from the President of the University to return to campus to share their expertise with students, faculty and administrators.
An alumnus of Penn State DuBois, Pearce completed a B.S. with honors and distinction in management and a minor in psychology from Penn State in 1987. He earned his MBA in management from the University of Wisconsin-Madison in 1988, and a Ph.D. in management and organization from the University of Maryland-College Park in 1997.
He also is a co-founder of an agricultural biotechnology company and an active keynote speaker and consultant to business organizations, including American Express, Behlen Manufacturing, British Bakeries, Central Intelligence Agency of the United States of America, Land Rover, GEICO Insurance, Panda Restaurant Group, Rayovac, Pickering Foods, Nebraska Educational Telecommunications, The Rouse Company, Rover Cars, Serono, SK Group Korea, and SmartScan Imaging.
His research interests are shared leadership, hierarchical leadership, ethics/sustainability/corporate social responsibility and organizational performance.
Additionally, Pearce is the founding Director of the Deloitte Leadership Institute at Ozyegin University in Istanbul, Turkey. He was formerly the dean of the School of Business and Entrepreneurship at the American University of Nigeria and was the Donald Clifton Chair in Leadership and the director of the Institute for Innovative Leadership at the University of Nebraska-Lincoln. Previously, he worked with Peter Drucker at the Peter F. Drucker and Masatoshi Ito School of Management.