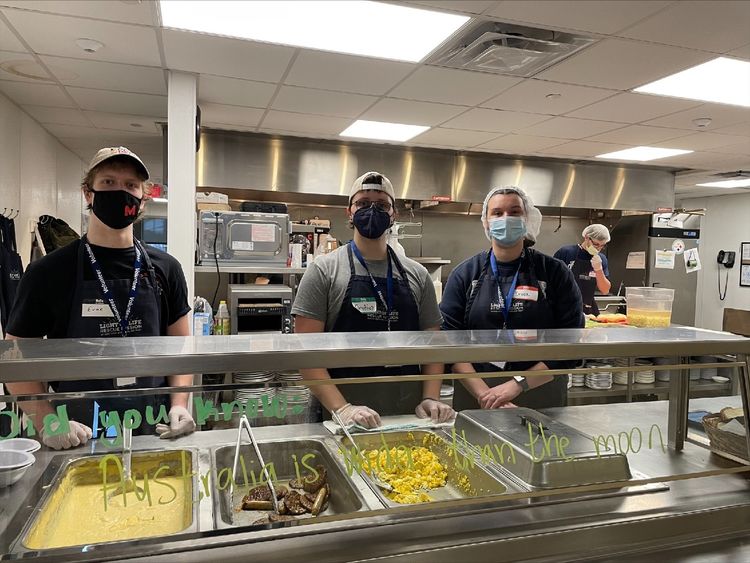 DuBOIS, Pa. — Penn State DuBois' Alternative Spring Break (ASB) trip made a triumphant return this year, marking what would have been its 15th year, after a moratorium due to COVID-19. For the ABS trip, eight students in the "Foundations: Civic and Community Engagement" class participated in service activities in the Pittsburgh area.
The ABS trip provided students with a more personal understanding of the things they are learning about in class. "This year I made an effort to stay closer to home to give students a deeper understanding of the issues of poverty, homelessness and food insecurity close to our campus via Pittsburgh," said Marly Doty, lecturer in human development and family studies.
Students spent the week engaging in many activities of learning and service to the greater Pittsburgh area, beginning with a tour of the Hill District with Terri Baltimore discussing gentrification and the impact it has had on the neighborhood. Baltimore works for the Hill House Association and understands the importance of changing the narrative for the neighborhood's negative reputation.
"But in the Hill District, in Homewood, in Hazelwood, in Homestead are the cultural and industrial roots of Pittsburgh. So you miss those neighborhoods and you miss the very essence of Pittsburgh," Baltimore said. Baltimore also explained how traffic pattern changes and an aging population have brought new challenges to the community.
"My experience was full of great learning opportunities and helped shape a lot of my thoughts that I have on service now," said Evan McDowell, a senior information technology student. "It gives me more drive to try and be better for people around me, so they aren't struggling as much. I want to keep having fun and engaging experiences like this one to grow and to better myself as a person, which will make the world around me a better place in general."
Ujamaa Collective, a boutique located in the Hill District that showcases the work of African American women and creates a community focused on businesswomen and their entrepreneurial journey, was the next stop for Penn State DuBois students.
The concept of Ujamaa has roots in Tanzania and is borrowed from the fourth principle of the holiday Kwanzaa, meaning "cooperative economics: to build and maintain our own shops, stores and other businesses and to profit from them together." In 2008, the founders of Ujamaa Collective used this concept to put forth a call to action for Black women to come to the table and share ideas about business and community development, which heavily included Africana examples of financial exchange.
I think we all had a similar experience in the kitchen that day just because of how real it all became for us. For myself, that morning in the kitchen will leave an impact on my life that will last forever.

—Andrew Griffiths , sophomore secondary education major
After touring and visiting the Hill District, the crew headed to the North Shore to spend time helping the Light of Life Rescue Mission, founded in 1962 with a goal of serving people experiencing homelessness. The organization takes a holistic approach to this work by partnering with caseworkers to provide one-on-one support for clients experiencing homelessness. With four locations across Pittsburgh, the Western Avenue location just recently opened in 2021, housing men, women and children.
Penn State DuBois students jumped in to help at the Light of Life Rescue Mission by helping to prepare and serve food to 50-60 people per meal. "I think we all had a similar experience in the kitchen that day just because of how real it all became for us," said Andrew Griffiths, a sophomore secondary education major. "For myself, that morning in the kitchen will leave an impact on my life that will last forever. Going forward I'm going to encourage my future students to participate in service-learning trips because of how enlightened I am after the whole thing."
The students also sorted donations, made hygiene kits, cleaned up an encampment area along the river, and spent a morning helping in the food pantry. They were able to unload food items, stock shelves, and assist clients getting their groceries.
Jerrel Gilliam, CEO of the Light of Life Rescue Mission, spent time with students and invited them to sit in on a staff meeting to learn even more.
"I have realized how much we take for granted and waste. I am more conscious on what we are wasting, such as food and items that can be repurposed. I am trying to make my family realize this more so they can learn how to not waste as much, too," said Brook Grove about her experience, a junior human development and family studies major.
The students rounded out their trip with a visit to the Black Urban Gardeners and Farmers of Pittsburgh Co-op to learn about an initiative to convert empty and abandoned lots into garden space.
"One of the goals of this experience is to plant the seed of civic engagement that students will carry with them into their adult lives by finding ways to give back. The students plan an activist project around the issues of homelessness, food insecurity and poverty to share their learning with their peers on campus. This is one way they begin giving back — spreading knowledge and awareness," Doty said.