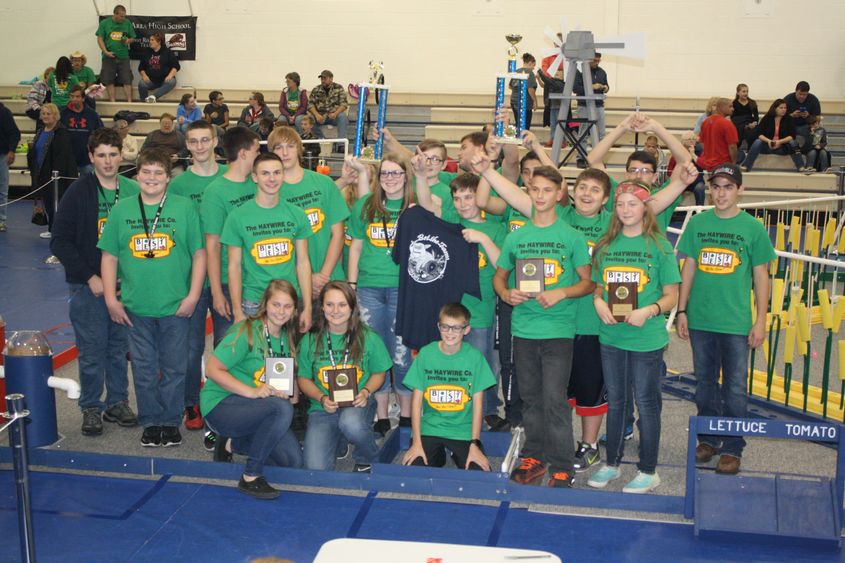 DUBOIS, Pa. — DuBois Area High School won first place in the BEST (Boosting Engineering, Science and Technology) Robotics Competition held Friday and Saturday, Oct. 21-22, in the campus gymnasium at Penn State DuBois. Second and third place went to Clearfield Area High School and Redbank Valley, respectively. All three schools will advance to the Northern Plains BEST Regional Championships, to be held Dec. 1-3 at North Dakota State University.
BEST is a national robotics competition for middle and high school students. The BEST organization provides all necessary parts and equipment for teams to build a robot that they can use to run a course and perform specified tasks. This year's theme challenges teams to solve problems on a farm using technology. The objectives are to build a robot to perform farming operations. Each team is located near an area where they can harvest corn and plant seeds. The robots had to be built within a six-week timeframe.
During the contest, all teams ran the course, competing for the best times and course completion. Through participation in this project-based program, students learn to analyze and solve problems utilizing the engineering design process, which helps them develop technological literacy skills. The goal is to better prepare these students for further education and careers in STEM (science, technology, engineering and mathematics) fields. The top schools were determined by tallying a combined score in each team's performance in robotics, their engineering design notebook, marketing plan, and other areas of the competition.
The teams that participated in this year's BEST at Penn State DuBois were: DuBois Area High School, Redbank Valley, Cranberry Area High School, Clearfield Area High School, Clearfield County Career and Technology Center, Brockway Area Junior/Senior High, and St. Marys Area High School.
"It feels great; these kids worked really hard," said Jennifer Keith, physics teacher and BEST coach for DuBois Area High School, learning that her team will compete at the regional championships in North Dakota. "I'm especially proud of how the students pulled together today. We had some issue with the robot, but they pulled it out and came out strong in the end."
"This is an amazing contest," Keith added. "I enjoy how every type of student can be involved; it's not just about building robots."
Teams also compete and receive awards for other areas of the project, which include marketing, exhibition, sportsmanship and spirit, software design, and are judged on their project notebook. In marketing, Clearfield took first, DuBois second, and Redbank third. In exhibition, DuBois took first, Cranberry second, and Redbank third. In spirit and sportsmanship, DuBois came in first, Clearfield second, and Redbank third. In software design, DuBois claimed first, Redbank second, and Cranberry third. And in the notebook, DuBois took first, Redbank second, and Clearfield third.
Awards were also given for performance in the robotics competition only. For their performance on the robotics game field, DuBois Area took first place, Redbank came in second, and St. Marys Area High School claimed third.
BEST at Penn State DuBois was made possible by sponsorships from Dave and Francie Spigelmyer, Christine Beretsel, Farmer's National Bank, Miller Welding and Machine, Atlas Press Metals, Abbott Furnace, Comtec Manufacturing Inc., Phoenix Sintered Metals, Eastern Sintered Alloys, Joe and Pat Kirk, and the Alumni and Friends of Penn State DuBois.
More information about BEST at Penn State DuBois can be found at http://dubois.psu.edu/best.