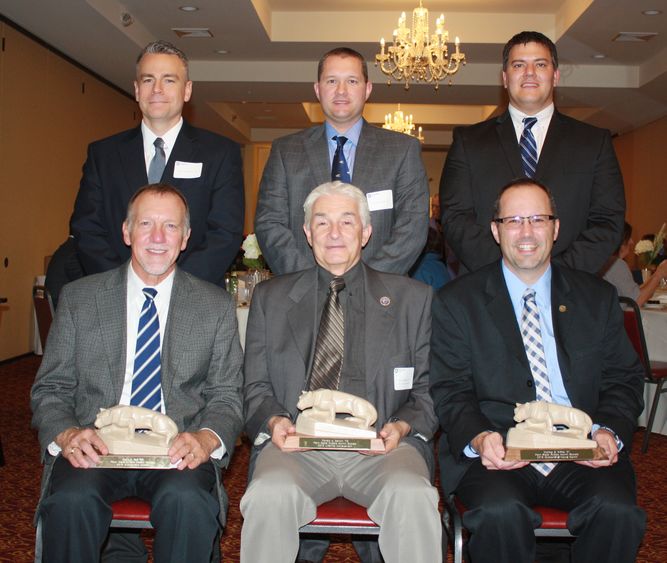 DUBOIS, Pa. — Three campus alumni were recognized for their achievements at the Penn State DuBois Alumni Society's Alumni Awards Banquet on Thursday evening, Oct. 13, at the DuBois Country Club.
Craig Ball received the Outstanding Alumni Award, Ronald Santini was presented with the Lifetime Achievement Award, and Michael White received the Outstanding Young Alumni Award.
Ball is a financial adviser and vice president of Wealth Management at CNB Bank located in Clearfield. He earned a bachelor's degree in biology from Penn State in 1982. He has worked in banking for 26 years, and has been a financial adviser for 16 years. At CNB Bank he oversees the coordination of the bank's investment program, and the licensing and compliance of the bank's financial advisers, as well as those for CNB's two subsidiary banks, ERIEBANK in Erie and FC Bank in Central Ohio. Prior to CNB Bank, Ball was a financial consultant with Janney Montgomery Scott in DuBois and started his banking career at First Commonwealth Bank in 1990. Ball was this year's recipient of the Greater DuBois Chamber of Commerce Silver Ribbon Award for community service, leadership and mentoring of others. He is currently the chairman of the Development Committee of the DuBois Educational Foundation, the advisory board for Penn State DuBois. He is the current president of the DuBois Soccer Association, and sits on the leadership team at Tri County Church of DuBois. In the past he has served on and has been the president of the DuBois YMCA board, DuBois Library board, DuBois Area Jaycees, and was the assistant scoutmaster of Boys Scout Troop 27.
Ball was presented with his Outstanding Alumni Award by his friend Bill McFadden.
"He's been an amazing leader in our community and the range of leadership roles he has had is too expansive to list," McFadden said of his friend. "It is my great honor to present this award to a man I admire as a fellow Nittany Lion, leader and family man, Craig Ball."
Upon accepting his award, Ball said, "This is truly an honor. Over the last 20 years of my involvement in the community, I see what a real benefit it is to have a campus of a world-class university in this community." He continued, "It is an honor to be recognized for my community service, but also to be recognized as a Penn Stater who is giving back to the community."
The Lifetime Achievement Award was presented to Santini by his son, Christopher, who said of his father's modesty, "My dad does not like to be in the spotlight. When he found out he was getting the award he questioned why he would get it and not someone more decorated." Christopher added that he reminded his father of his many accomplishments.
Santini is retired from Duke Energy Corporation where he was an environmental scientist and manager in environmental assessments and monitoring. He earned an associate degree in business in 1972, a bachelor's degree health planning and administration in 1974, and his master of environmental pollution control degree in 1986. Currently he is an instructor for Penn State World Campus, teaching geology as well as a course on energy and sustainability. During his time at Duke Energy, Santini was responsible for managing activities of environmental scientists and technicians with responsibility for assessing and monitoring surface and groundwater environmental impacts from power generation facilities in the Carolinas. He is a life member of the Penn State Alumni Association, a member of the PSAA Charlotte Chapter and a Penn State LionLink Coach. He is a member of the Professional Photographers of America and the Carolinas Nature Photographers Association, where he serves on the Conservation Committee. His photography has won numerous awards.
"His story is a testament to the power of education, the power of a Penn State education," Christopher said. "He came from a family that did not have material wealth and he set the bar for future generations of our family."
Ron Santini accepted his award, saying, "What an honor. It's an honor to be included with all that came before me and all that will come after. It's places like Penn State DuBois that offer rural kids the chance at education. Without it, many kids would not have an opportunity for education. I would not have had the opportunity."
White was presented with the Outstanding Young Alumni Award by his friend and Penn State DuBois classmate Kyle Hilfiger.
White is a sales manager at Brookville Equipment Corporation in Brookville, where he performs all aspects of lead generation, evaluation, and capture of sales for streetcars, locomotives and underground mining equipment. His career began 1989 in the United States Coast Guard where he served eight years as an aviation electrician. Following his time in the Coast Guard, White began distance learning through Penn State, completing his degree in business at Penn State DuBois in 2007. He began working for Brookville Equipment as their marketing specialist. Today he champions the submission of multimillion-dollar sales proposals for private and public procurements for transportation fleets all over the world. White has received several awards from Penn State, including the Eric A. and Josephine S. Walker Award, the Penn State Business Outstanding Junior Award, and the Penn State Program of the Year Award, all in 2006. He also received the Penn State Terry Hartman Volunteer Service Award in 2007. White currently serves as a volunteer on the Pennsylvania Trails Advisory Committee (part of the DCNR), is a Boy Scouts of America merit badge counselor, served as president of the Penn State DuBois Alumni Society from 2013 to 2014, and is the retail committee chair on the Brookville Chamber of Commerce.
"Mike is the person who earns your respect through his hard work, honest personality, and tenacious attitude to always be moving forward," Hilfiger said. "Mike was able to mentor other students in our class, myself included, by just being himself."
Hilfiger concluded, "I think this award is truly for someone who believes and wants to share the true joy of being a Penn Stater, and I don't think it could have been awarded to a more deserving person."
White said upon receiving his award, "I'm truly pleased to be here and be selected as an outstanding young alumni. This reward reception means a lot to our campus."
White spoke of introducing his young daughters to Penn State traditions, such as football, but said his reasons for doing so run deeper than the game. He said, "The kids see that the education I was provided has provided us a good life. I can't say enough good things about what it has done for us."
For more information on the Penn State DuBois Alumni Society, contact Julie Frank at 814-375-4775 or [email protected].