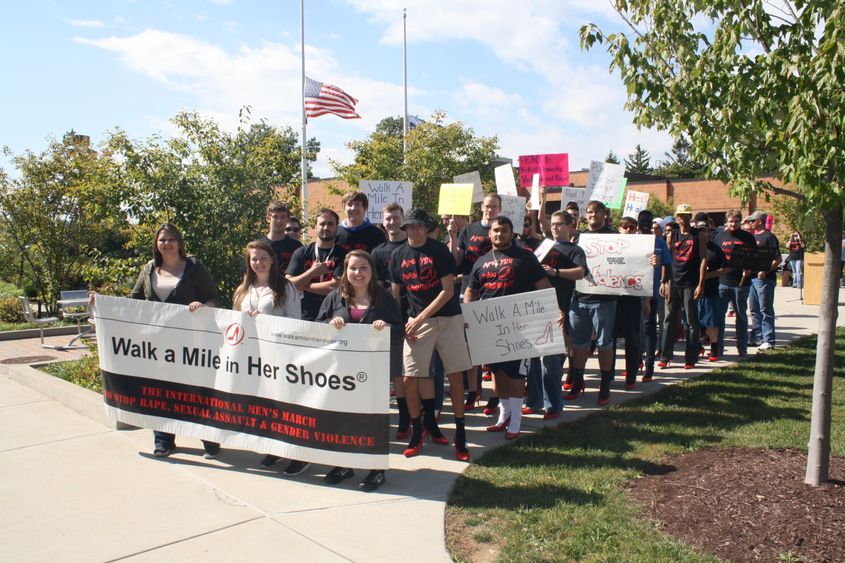 DUBOIS, Pa. — A total of 40 men from Penn State DuBois stepped into high heels Sept. 28 for the Walk a Mile in Her Shoes event. The men's march is meant to raise awareness of the battle against rape, sexual assault, and gender violence, and to get more men involved in the fight. The event was organized by the victim advocacy group Passages of Clarion, Clearfield and Jefferson Counties, in conjunction with the Penn State DuBois Office of Student Engagement.
The men marched through campus, as well as off campus, along Route 255, and down Liberty Boulevard, then back. The round trip added up to the men walking a full mile in their pumps.
April Fleck, a prevention educator with Passages said, "This is a really great opportunity for men to get involved. They can make a huge difference in preventing sexual violence, so it's great to have some way they can participate in awareness."
"Each of you are here today to help raise awareness of the serious causes and effects of men's sexual violence against women," said freshmen Darby Richard, of Perry County, to the crowd gathered in Schoch Plaza before the march. "You're here to show that men are willing and able to partner up with women to make the world a better place. You are here today to help change the world for the better and to help eliminate gender violence."
Fellow freshman Malav Patel of Clearfield also spoke. "By taking part in this walk, we are helping to make a difference in our society," he said.
According to the Rape, Abuse and Incest National Network (RAINN), someone is sexually assaulted in the United States every two minutes. Statistics like that are what inspired some of the marchers at the Walk a Mile event.