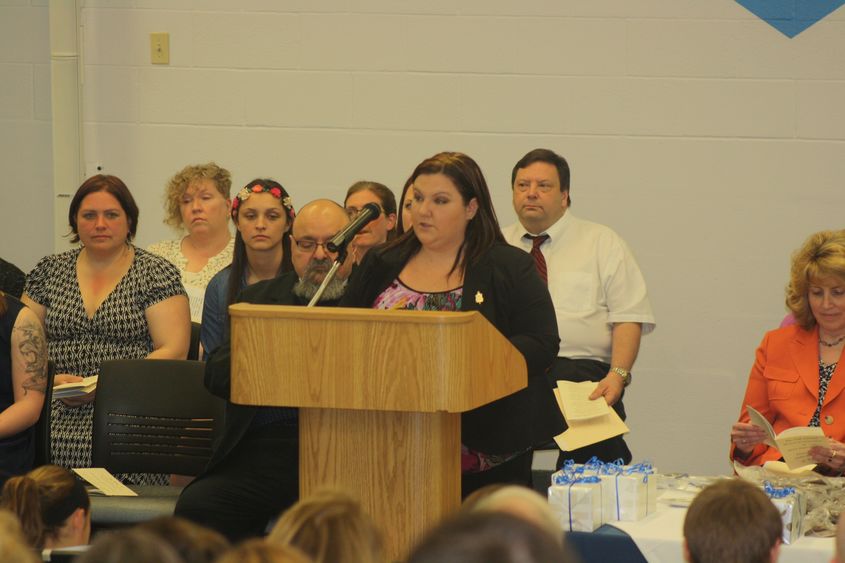 The 77th annual Delta Mu Sigma Honors Convocation at Penn State DuBois recognized outstanding students, faculty and staff members on Friday night in the campus' Hiller Auditorium.
Awards at the Honors Convocation recognize students for a wide range of accomplishments, from academic excellence, to overcoming hardships to succeed. Members of the staff and faculty were celebrated for their commitment to supporting students and for their service to the campus and community.
The event is organized each year by members of the Delta Mu Sigma Honors Society.
"Tonight's ceremony will be about the students, faculty and staff that help make Penn State DuBois what it is," said Delta Mu Sigma Co-Chair Tawnya Cordwell, opening the ceremony. "The University, especially this campus, prides itself on the efforts of the students for their academic achievements and their successes."
Honors Convocation award winners for 2016 are:
Academic Awards: OT Academic Excellence Award: Danielle Hodgdon
OT Student of the Year Award: Brianna Nussbaum
PTA Academic Excellence Award: Alexander Lloyd
Part Time/Adjunct Educator of the Year Award: Courtney Colley
Wildlife Technology Outstanding Student: Courtney Braunns
Sherwood S. Stutz Award (technology competence): Rachel Bloom Alex Sharp
David T. Wanless Award (Highest GPA): Donna Morello
Academic Excellence in Earth Science Award: Clinton Goodwin Mandy Marconi
Academic Excellence in Mathematics Award: Stephen Koellner
Women's Studies Award in Academic Excellence: Amber Metzger
Academic Excellence in Human Development & Family Studies, Baccalaureate Degree: Molly Stoltz
Outstanding Junior Award in Business Administration: Kristy Hanes, Jennifer L. Lenze, Harry J. Charlesen
Outstanding Associate Degree student: Julie K. Shimmel
Academic Excellence in Information, Science & Technology: Scott Caltagarone
University Awards
President Sparks Award: Hunter A. Lydick, Cassidy J. Sicheri
President's Freshman Award: Ethan J. Ambler, Brandon J. Gettig, Nicole M. Harker, Cortney L. Hedlund, Clifford B. Henrice, Taryn M. Licatovich, Ruyang Luo, Lars A. Nelson, Andrew L. Smith
Scholastic Achievement Awards Associate Freshmen: Lars A. Nelson, Andrew L. Smith
Baccalaureate Freshmen: Ethan J. Ambler, Brandon J. Getti,g Nicole M. Harker, Cortney L. Hedlund, Clifford B. Henrice, Taryn M. Licatavich, Ruyang Luo,
Baccalaureate Sophomore: Hunter A. Lydick, Cassidy J. Sicheri
Baccalaureate Upperclassman: Lauren N. Anderson
Honors Program students
Participant for five semesters: Leah Star McKay, Jamie Lynn Simbeck
Participant for four semesters: Randy Bates, Desmond Colema,n Anna Harkleroad
Participant for three semesters: Rachel Bloom, Emilee Brown, Brianna Caggiano, Howard Hartzfeld, Stephen Koellner, Jennifer Lenze, Donna Morello, Joshua Sanko, Alexander Sharp, Julie Shimmel, Timothy Smith, Alyshia Talmage
Participants for two semesters: Ethan Ambler, Morgan Crawford, Kevin Decker, Emily Gerew, Brandon Gettig, Alex Graf, Cheyenne Hahn, Matthew Powers, Eric Seary, Rebekah Shilala, Jared Wolfe
Participant for one semester: Tamera Anthony, Stephen Carns, Jonathan Hall, Kristy Hanes, Danielle Holland, Amber Siverling, Molly Stoltz, Sadie Viglione, Shelby Volosky
Special Awards Excellence in Academic Advising: Annette Muth
Walker Award: Amanda Butler
Laurel Award: Zach Wood, Terry Hartman
Community Service Award: Jessica Metzger
Students Choice Service Award: John Tolle
Student Affairs Award: Julianne Inzana
Delta Mu Sigma Staff Award: Marly Doty, Pennie Mowrey
Memorial Award: Shalane Read
Delta Mu Sigma Award: Tawnya Cordwell
Burns Award: Carrie O'Brien
Mansion Memorial Award: Linsey Mizic, Susanne Waitkus
Faculty Award: Jim Kuterbach
Delta Mu Sigma Scholarship: Juliana Vokes
Delta Mu Sigma Alumni Award: Judith T. Witmer