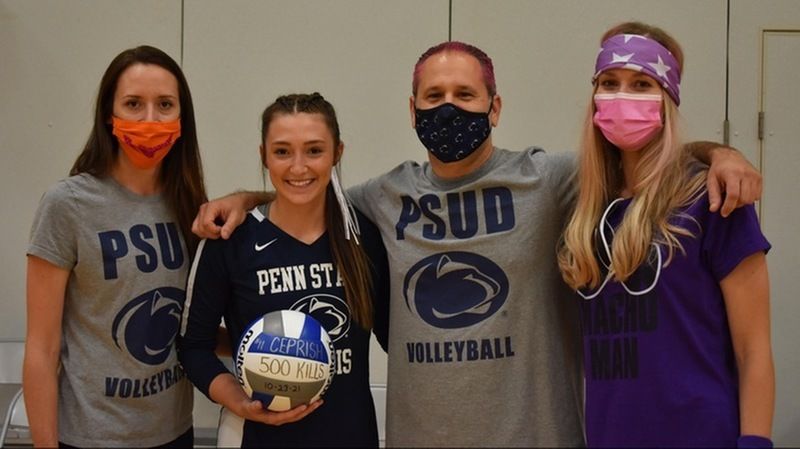 DUBOIS, Pa. — It was a bittersweet night on Thursday as Penn State DuBois Volleyball suffered a tough loss in their first Penn State University Athletic Conference (PSUAC) playoff matchup, but were still able to recognize senior Skylar Ceprish for achieving 500 career kills in the last regular season game.
Penn State Greater Allegheny would best Penn State DuBois 3-2 in five sets. The first set was taken by storm with Greater Allegheny defeating DuBois, 25-13. DuBois would come right back with a marginal victory of their own in set two and tie the match at one a piece with a score of 25-17. Again Greater Allegheny would put DuBois down hard in the third set, 25-12. But again, DuBois would answer the call and win the fourth set handily, 25-13. 
For a chance to move on to the next round of the PSUAC playoffs the match win came down to the fifth set. Greater Allegheny took the set, 15-7, and advanced to the next round of the playoffs.
Setter, Catherine Gregory ended the night with 30 assists, while Skylar Ceprish led the way in kills with 10.  Sydney Kaschalk added in 7 service aces and 8 kills.
Before the game Ceprish was presented with her 500th kill game ball that she hit at an away game against New Kensington on Oct. 23.
DuBois will now wait for the USCAA National bid selection on Thursday, Nov. 4, to see if they advance to the USCAA National Tournament, or if their season has come to an end.
For results, schedules, rosters and more, visit https://psuduboisathletics.com/landing/index