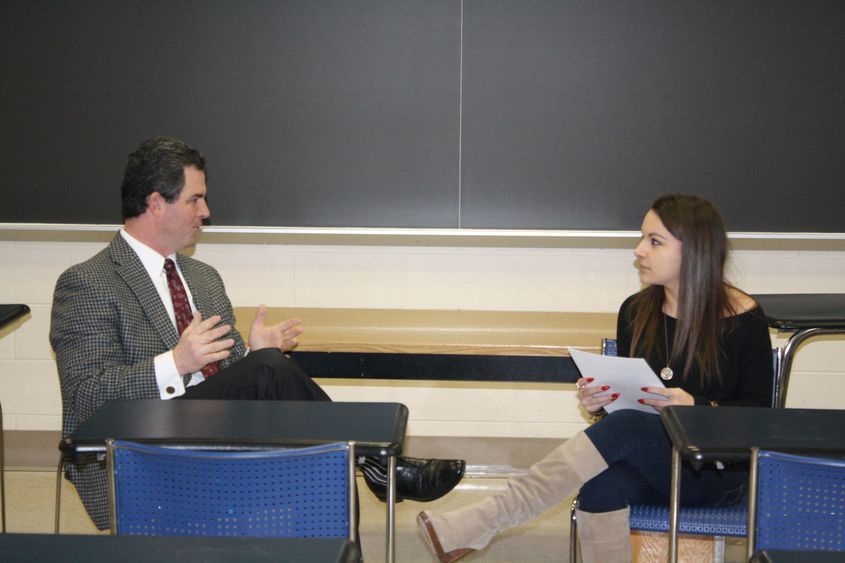 A successful entrepreneur visited Penn State DuBois business students recently to share some of his insight on what it takes to run a successful business. Peter Varischetti is president of Varischetti Holdings, a family owned organization based in Brockway, Pennsylvania, that oversees a number of companies spanning several industries.
Varischetti was interviewed by student Domenica DeSantis as part of an assignment for the Business 250 class, Problems of Small Business, which requires each student to invite a small business owner to campus and interview that person about their experiences.
"Our area is filled with entrepreneurs who want to give back to their communities, and one way of doing that is to share their business experience with young people," said Penn State DuBois Senior Instructor in Business Administration Annette Muth. "Each student in my class was given the task of interviewing a local small business owner who could choose to come to campus to share his or her story with the entire class. Students benefit by hearing first-hand accounts of real business life that they will remember long after they have forgotten what they read in a book."
Varischetti explained that his multifaceted organization oversees Varischetti & Sons, a commercial real estate and consulting firm for the waste industry; Phoenix Sintered Metals, a powder metal manufacturing business; Apple Tractor, a construction equipment dealership; and Superior Energy Resources, an oil and gas field service company.
Varischetti Holdings began as the small business started by Peter's father, Frank Varischetti, Varischetti Construction. The senior Varischetti continued to diversify and grow the organization until his passing in 2002, and trained his sons in business practices and management along the way. The result is the present organization that touches a multitude of areas throughout the region.
"As a kid, I never realized how much of a part of the community Mr. Varischetti was," DeSantis said, adding that as a friend of his daughters, Varischetti was a fitting entrepreneur for her to interview. "It's amazing how much he has done and what an impact he has had."
Varischetti said supporting his community is one of the most satisfying parts of heading a successful company. He explained, "It's extremely important to give back to the community and to be involved. If you don't give back, you run the risk of your community not being better for your own children."
In sharing tips for what it takes to find success in business, Varischetti said, "You have to have fire in your belly and be passionate about what you want to do. You also need to surround yourself with good people, and have a solid business plan."