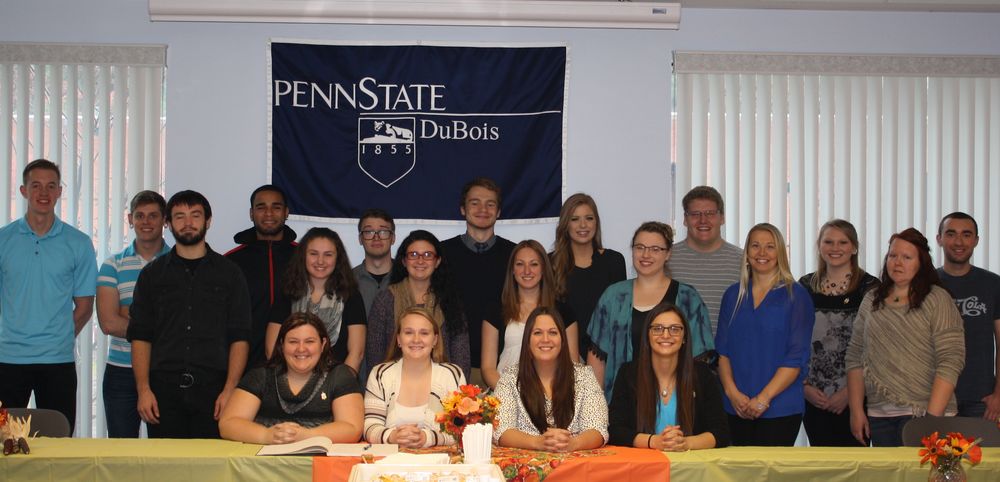 The Delta Mu Sigma Honor Society at Penn State DuBois has inducted 16 new members for the Fall 2015 semester. In order to qualify for membership students must maintain a cumulative grade point average of 3.0 or above, and be involved in campus or community service.
"I personally want to congratulate you on your accomplishments," Delta Mu Sigma President Tawnya Cordwell told the inductees. "Thank you for accepting the invitation to Delta Mu Sigma, and joining such a prestigious honor society. You have been selected to become part of this society, not only for your merit, but also for you dedication to your community and your campus."
Delta Mu Sigma reaches out to DuBois and the surrounding area by offering community service such as a "Dine Out" event at Luigi's Restaurant, with part of the proceeds benefiting scholarship funds. Members have volunteered with organizations like Habitat for Humanity, and organize a haunted house on campus each Halloween and donate proceeds to local charities.
New members who participated in the induction ceremony are pictured with the Delta Mu Sigma board. Seated, left to right: President Tawnya Cordwell, Vice President Linsey Mizic, Executive Board Member Julie Shimmel, and Treasurer Juliana Vokes. Standing, left to right: Inductees Brett Betton, David Robbins, Austin Miller, Louie Conde, Julia Test, Sawl, Sadie Viglione, Zachary Wood, Lauren Sedor, Sarah Snyder, Jessica Clark, Greg Myers, Brenda Quairiere, Brittany Johnson, Kandi Goodreau and Desmond Coleman.