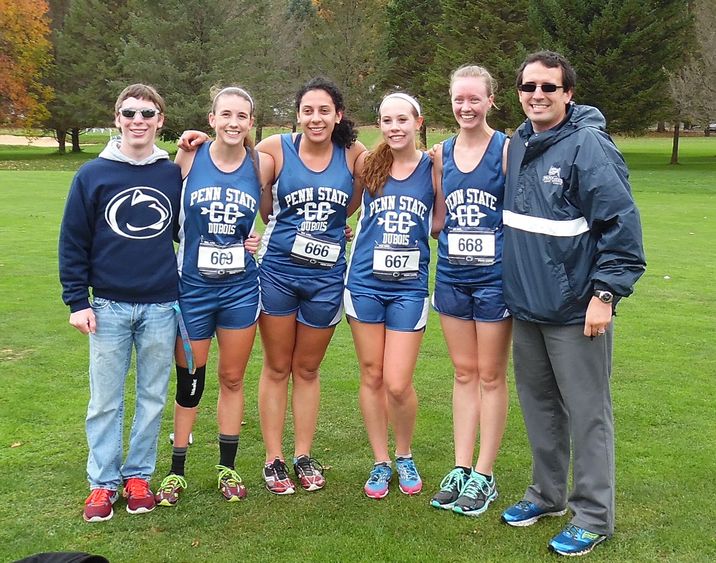 DUBOIS, Pa. — Penn State DuBois cross-country runner Juliann Boddorf claimed the title of Conference Champion at the Pennsylvania State University Athletic Conference (PSUAC) Championship on Saturday, Oct. 17, held on the golf course at Penn State's University Park campus.
The weather, barely above freezing temperatures and accompanied by a mixture of sleet and rain, didn't faze the women's cross-country team as they placed all four runners with All-Conference Honors. To make the All-Conference Team, athletes must finish in the top 14 of the championship race.
Boddorf has won every conference race this season and sealed the deal on Saturday by running at her fastest mile pace all year. Joining her in the limelight was perhaps the most balanced running team that Penn State DuBois has ever seen. DuBois native Stephanie Graham stole the fourth-place finish with her fastest mile pace of the season. The only returning runner from last year other than Boddorf was Tamera Anthony. Anthony rose from being ranked 21st in the conference last year, to finishing the championship race this year in 10th place. Newcomer Carley Boice who rounded out the notable performances. Boice, who has been gradually gaining momentum through the season, claimed a 12th-place finish in the conference. Since joining the cross-country team, Boice has been able to shave off a whole 2 minutes from her mile pace.
"This is arguably the best squad of runners in Penn State DuBois history. I couldn't be more proud of them," commented Head Coach Kyle Gordon. "They've made our team, program, campus, and communities very proud." Both the men's and women's cross-country teams will be competing at the United States Collegiate Athletic Association's (USCAA) Cross Country National Championships on Friday Nov. 6, in Lakeland, Florida; and like every other athlete who's achieved greatness, they'll be celebrating with a day at Walt Disney World, too.