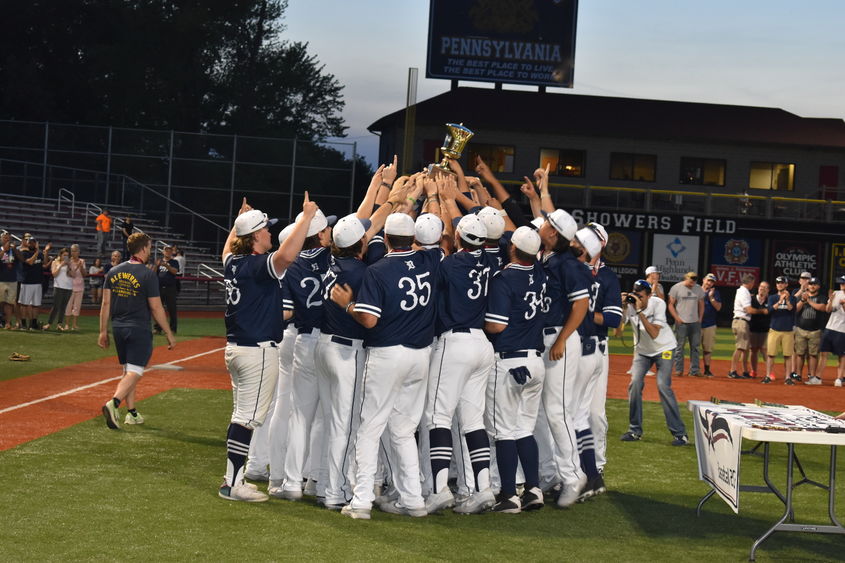 DUBOIS, Pa. — Tournament MVP Daniel Stauffer went 2-for-4 and earned his tournament record third save as Penn State DuBois defeated Cincinnati-Clermont 10-5 to capture its third straight United States Collegiate Athletic Association national championship.
Trailing 3-1 after six innings, Zane Morgan singled in a run and Tyler Corl smacked a three-run home run in a four-run seventh to put the Nittany Lions up 5-3.
UC Clermont answered with a pair in its half of the seventh as Tyler Grant doubled in Peyton Leinhardt and scored on a single by Grant Hessman as the Cougars tied the game at 5-5.
Thayne Morgan drove in a pair of runs with a single in the eighth and the Lions iced the game with a pair of home runs in the ninth. Trevor Hanna started with a solo blast and Stauffer closed the scoring with a two-run home run, which was his fourth of the tournament.
Game 1 – UC Clermont 11, Penn State DuBois 10
Jack Deeds and Tyler Stewart had three hits each, while Tyler Gulley drove in three with a pair of home runs as the Cougars held off a frantic Penn State DuBois comeback to force the if-necessary game with an 11-10 win.
Brian Zix had a solo home run in the top of the eighth to put UC Clermont up 11-5. His home run set a tournament record for the Cougars as it was their seventh in the game.
The Lions pushed three runs across in the eighth as Logan Wagner had a RBI single and Brandon Sicheri drove in a pair with a double to trim the deficit to 11-8.
In the bottom of the ninth, Thayne Morgan lead off with a double before the Cougars got a pair of strikeouts. Daniel Stauffer came in with a two-run home run to make it a one-run game at 11-10. Three walks followed to make things very entertaining before Zach Woodrum forced a flyout from Sicheri to end the game.
Sicheri and Toner Curl had a pair of hits for Penn State DuBois, while Trevor Hanna drove in three.
2021 All-Tournament Team
Penn State Brandywine: Tyler Brooks
Bryant & Stratton: Keniel Carrion de Jesus
Penn State Mont Alto: Zach Garlin
Mississippi University for Women: Heath Ford, Trey Petite
UC Clermont: Tyler Gulley, Tyler Stewart, Drew Day
Penn State DuBois: Toner Corl, Brandon Orsich, Daniel Stauffer
Tournament MVP: Daniel Stauffer