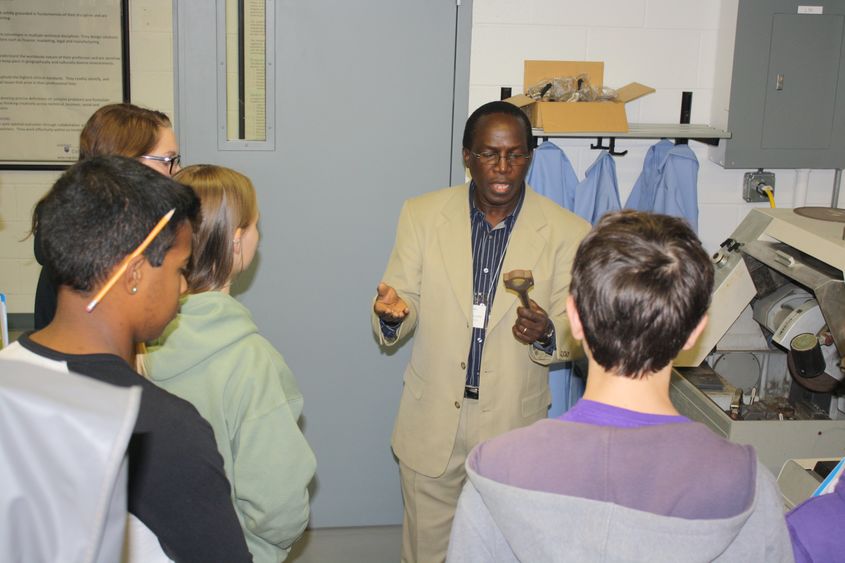 Around 50 middle school and high school students from six area school districts, as well as representatives from area industry, took part in Manufacturing Day at Penn State DuBois on Friday, Oct. 2. All guests had the opportunity to take part in a product design exercise using computer drafting tools, received tours of campus engineering labs and production labs, and learned more about engineering degree programs offered at Penn State DuBois that can prepare individuals to launch careers in a variety of fields. Presentations were also made by faculty members in the campus engineering programs. Participating schools included Elk County Catholic, St. Marys, DuBois Area, Jeff Tech, Curwensville Area and Moshannon Valley.
"We want to expose students to the slick, high-tech manufacturing of today," said Associate Director of Academic Affairs and Outreach Carolyn Jacobson. "A lot of manufacturing jobs are opening up, so there are many career opportunities in these fields. Today, we're hosting our next generation of manufacturing professionals."
Jacobson explained that 12 million Americans are currently employed in manufacturing fields, and in 2013, the average annual salary of those employees was $69,000. She said these include jobs in areas such as powder metals, machining, chemical production, food and beverage production, paper production and more. Additionally, according to the National Association of Manufacturers, total output from manufacturing in Pennsylvania in 2013 totaled $77.37 billion.
Jesse Husted, a high school counselor from Curwensville Area High School brought 14 students to the event. Husted said, "This is an amazing experience for the students to go through. They get exposure to a field they're not familiar with, and getting this hands-on experience is second to none."
Husted said his students would, without a doubt, be inspired to look further into careers in science, technology, engineering and mathematics (STEM). He said, "I have 100 percent confidence this will get some of them interested in STEM fields. It was really beneficial to see the professors from Penn State DuBois and the influence they had on the students."
The representatives from area businesses who attended the Manufacturing Day event learned more about opportunities to train their employees, as well as utilize lab space at Penn State DuBois for their company's research and development needs.
"We want them to see the labs and equipment we have that our local manufacturers can come in and use," Jacobson said. "My first thought when I saw these labs was, for a small campus in a small town, we have incredible facilities. We want our local manufacturers to see what is here and know they can use it."
Manufacturing Day is a national event supported by a group of industry sponsors and co-producers. Events were held at more than 2,000 locations across the country, intended to addresses common misperceptions about manufacturing by giving manufacturers and educational institutions an opportunity to open their doors and show, in a coordinated effort, what manufacturing is.