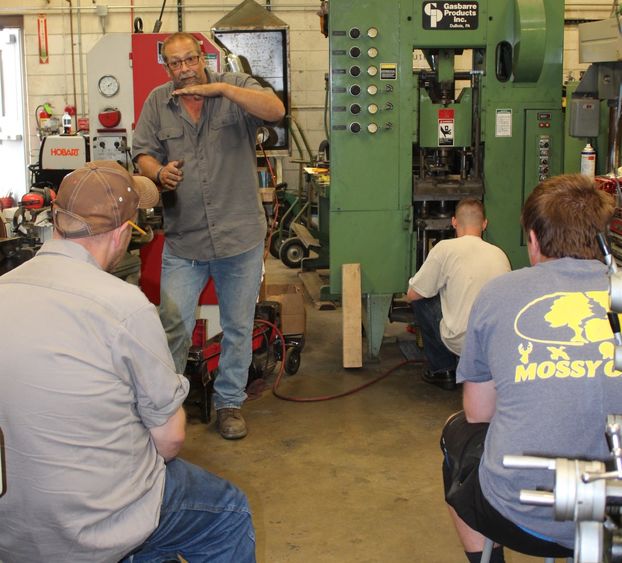 Job market experts say that coming out of the COVID-19 pandemic, many people facing hardships will be in search of new jobs. Companies in the Powder Metal Industry are now hoping to connect with job seekers to find dedicated employees who can be trained and will want to grow into their new role. To help bridge the gap, Penn State DuBois will offer die setter training to those looking to get a start in the Powder Metal Industry.
This program has historically been specifically for incumbent powder metal (PM) employees where the participants have been sponsored by a company. The majority of trainees are currently employed in the PM Industry and are moving into new roles by completing this training.
Because there are many new residents entering the job market following many COVID closings and layoffs, Penn State DuBois will accept applicants who are considered "job seekers." For those looking to start a rewarding career in the PM industry, who have a mechanical background, and an aptitude for the math that is required to learn to become a die setter, this training could be a perfect starting point.
Penn State DuBois, in partnership with several of the region's leading powder metal companies and Workforce Solutions of North Central Pennsylvania, has developed a 74.5-hour introductory course that provides a unique combination of high-level classroom and hands-on training. The classes all take place in St. Marys and DuBois and meet several times per week in the late afternoon to help accommodate multiple schedules. Class sizes are limited to allow more interaction with the instructors and there are a limited number of classes each year.
Utilizing some of the region's best engineering instructors and veteran die setters, students gain both the knowledge and the skills to tackle all types of press set-ups from straight-wall, flange and spherical to multi-action set-ups like dual top and dual bottom processes. Hands-on classes are taught using Gasbarre presses.
Courses include Introduction to Die Setting, Industrial Math I, Blueprint Reading I, Metrology I Straight Wall Set-up (10 Hours), Industrial Math II, Blueprint Reading II, Metrology II, Industrial Math III, Geometric Dimensioning and Tolerance, Flange Set-up (6 hours), Spherical Set-up (six hours), Statistical Process Control, Fracture and Failure Analysis, Dual Top Set-up (seven hours), Dual Bottom Set-up (seven hours), and Press Functions and Troubleshooting (three-and-a-half hours).
This course begins on May 27, and runs through Aug. 26. Those interested in enrolling current or new employees, or those seeking an introduction to a new career in manufacturing may contact the Penn State DuBois Continuing Education Department at 814-375-4836 or [email protected].