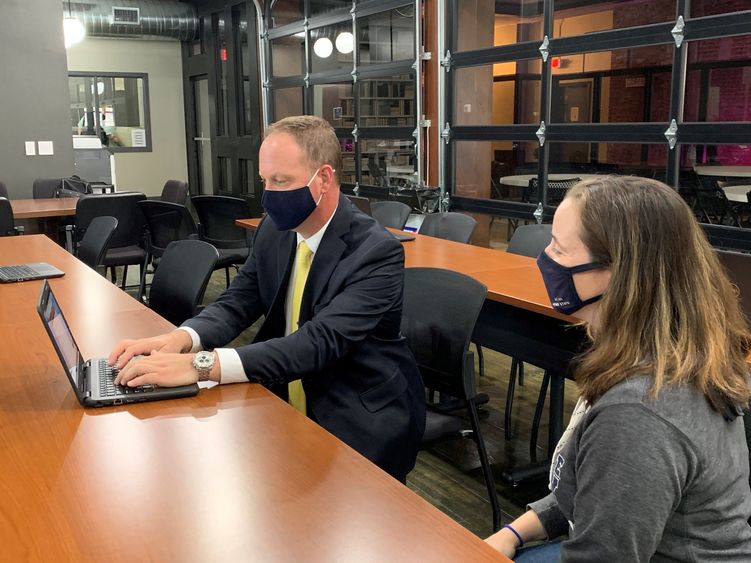 Teamwork has possibly never been more important than it is in 2020. During the trying times of the pandemic, The North Central PA LaunchBox and Penn State DuBois teamed up with Clearfield County commissioners to help businesses impacted by shutdowns during the health crisis.
The LaunchBox team helped to administer a second round of funding for small businesses adversely impacted by the COVID-19 pandemic through the Coronavirus Aid, Relief, and Economic Security (CARES) Act. The LaunchBox has helped to process over 100 applications for small businesses in Clearfield County in need of financial relief, with more than 50 qualifying for aid. This resulted in Clearfield County Commissioners awarding nearly $500,000 in relief funding.
The Clearfield County commissioners recently announced a second round of grant funding aimed at helping the local economy recover from losses suffered during this time. The CARES Act was passed by Congress with overwhelming, bipartisan support and signed into law in March. According to the U. S. Department of the Treasury, this federal government initiative has provided a $2 trillion economic relief package distributed by government bodies on more local levels, such as Clearfield County.
"We are delighted that the NCPA LaunchBox and members of our Penn State DuBois staff and faculty were engaged to partner with the county commissioners to support local businesses during this time of need. This collaborative effort embodies the very mission that the LaunchBox was designed to carry out when President Barron first announced the Invent Penn State Initiative in 2015: To unleash the ingenious power of partnership," said Penn State DuBois Chancellor, M. Scott McBride.
"The health and economic crisis caused by the pandemic has impacted our entire population and has challenged businesses, educational institutions, and government entities to succeed under difficult conditions. As we look to the future, one silver lining is the realization of the positive impact we all can have through shared partnerships. The NCPA LaunchBox and Penn State DuBois campus will continue to rally and work with our many partners to team together for the greater good of our communities."
"It's an unprecedented year. Being able to take this money that we got from the state, via the federal government was huge," said Clearfield County Commissioner Dave Glass. "When we first heard we were getting this money we thought about what we could use for small business and non-profit grants."
The LaunchBox worked specifically with small businesses to process their applications and determine their losses, and to submit applications for CARES Act funding. The online application process was designed by Penn State DuBois Instructor of Information Sciences and Technology Fred Terwilliger.
"That help he gave us has manifested itself in every bit of the process, from round-one, to round-two. None of this would be happening if he hadn't worked with me initially to gain this knowledge," Glass said of Terwilliger's work. "It puts all information in one central location, and it's just been very good to have it all in one place. Fred deserves credit for creating that."
Terwilliger shared, "I saw an opportunity for me to apply my expertise in my field to further help these businesses stay alive. There are business owners out there who may have their next meal impacted from losses as a result of this pandemic. And I just saw this as a way to make this process be a well-oiled machine for all involved."
Glass shared, "It was very simple, it was straight forward, and it only took about 5 or 10 minutes to complete. It had to be very easy for non-technical people to use."
LaunchBox Director Brad Lashinsky said, "In March it was like the rug was pulled out from underneath us, but from that we've learned a valuable lesson. We've continued to offer education through webinars and other online platforms, we've collaborated with other entities. You can reach so many people through these online events and collaborations. By working with the commissioners, we've been able to excite our business community again by letting them see that the utilities will continue to be turned on, they're going to be able to continue to pay their employees, produce their products, and weather this storm. This is exciting because you know you're making a difference in somebody's life, and you're helping a company that is a staple in our community to stay afloat. I completely congratulate the commissioners on their decision to push out this funding and I'm grateful that the LaunchBox could be a part of it."
Clearfield County Commissioner John Sobel added to these thoughts saying, "They're not just a business where you go buy stuff or services. They have a lot of direct influence on our quality of life. If you lose them, that has a real impact on our quality of life. You lose a business, there is a ripple effect. It impacts you, and impacts your community. With help from everyone working together, it was a good job done by all. It had a great impact on the business community. Hopefully, this will go a long way in getting us all through a difficult year."
Commissioner Tony Scotto is also a small business owner himself, operating Scotto's Pizza of DuBois, giving him perspective on many sides of these current challenges. He revealed, "My own business had to shift, and it changed my business plan. I've chosen not to do dine in to prevent spreading the disease. We focused more on takeout and delivery, but luckily, we were already set up that way. Other businesses couldn't survive that way. If they were fine dining, they couldn't survive that way. People came there to enjoy the atmosphere. They may have had a harder time in the transition. So, it was very meaningful for me to help out these small businesses. They are the economy of the county. They are what drives our economy in the county. It was very meaningful to give them this help surviving during this pandemic."
Many business owners required help navigating the process of applying for CARES Funding. The LaunchBox answered this call by setting up a computer lab in the Downtown DuBois location designed specifically to help individuals through this process. Lashinsky said, "Businesses utilized that space as a computer lab. We sat with them, while socially distanced and masked, working though the process."
Scotto said, "The LaunchBox was very helpfully aiding small business owners who didn't have some of the required resources. Some didn't have computers or have book-keeping. The LaunchBox was able to help those people and get them access to the application and the help they needed."
Lashinsky added, "You could tell the level of concern they came in with, and the level of appreciation they left with, because they could navigate through it with some additional help."
One of those thankful business owners is Joan Hockman, who has operated her family business, Hockman Candy, in DuBois for over 20 years. She shared, "They were so helpful at the LaunchBox. I wasn't sure how to process the paperwork, so Brad said to just bring it in, and they were able to process it all for me."
Hockman said a large part of her business each year is generated by fundraisers through area schools and community non-profits, many of which were cancelled in 2020. She said, "We work with schools and other organizations on fundraisers all over the state. Those events being cancelled due to COVID resulted in a loss of at least one-third of our business. We also lost holiday sales during times people typically buy candy, like Easter. And here we are looking at Christmas and Valentine's Day coming up. This grant is going to be very helpful. I recommend working with the LaunchBox to any business. They are amazing."
Chuck Guarino owns and operates CRG Resources, LLC in Curwensville. His business, specializing in mobile power washing of structures for building restoration projects, suffered losses as a nonessential service when shut down during the pandemic. He additionally washes trucks and heavy equipment, a revenue source that also dried up as companies began to cancel jobs. Guarino's recent work includes the refurbishment of the former Clearfield County Jail building on Second Street in Clearfield, which has been purchased by an independent entrepreneur. The building will house another start up business, Doing Time LLC, distilling bourbon through a new and innovative process.
Guarino shared, "I had a long list of customers lined up, and then we got shut down. What we do is a good thing, but it's not considered essential. The main decline was the uncertainty that caused businesses to cut back on non-essential services."
So, Guarino, a Penn State DuBois alumnus with a degree in accounting, sought help through the LaunchBox and the county commissioners.
"People in other counties are not as fortunate as I am to have this grant available in this way," Guarino said. "The LaunchBox made it streamlined. I was able to call with questions and had calls returned right away."
Guarino added that the process established by the commissioners and the LaunchBox using IST instructor Terwilliger's application process left little room for error. He explained, "The commissioners, the LaunchBox, and all involved should be commended. The process was seamless. I got an email immediately that my application was received for review. I'm really thankful to live in an area where we have leaders that care about small business that are really the backbone of our communities."
Penn State DuBois Director of Continuing Education John Brennan works daily with businesses seeking training opportunities or looking to diversify their business offerings. In that light, he too, was instrumental in sharing the role of processing grant applications. Brennan shared, "This has made me feel really good about the effort going on in our region to keep businesses alive. Everybody was uncertain – but to see something like this happen to help struggling companies is huge. This wasn't about companies making a profit, it was about keeping doors open and making payroll, and keeping people employed. It was very rewarding for me to be a part of it."
An initial round of funding was distributed, beginning in September, of Clearfield County's $7,157,429 award from the Pennsylvania Department of Community and Economic Development, which originated in federal funding through the CARES Act.
For more information visit https://dubois.psu.edu/launchbox