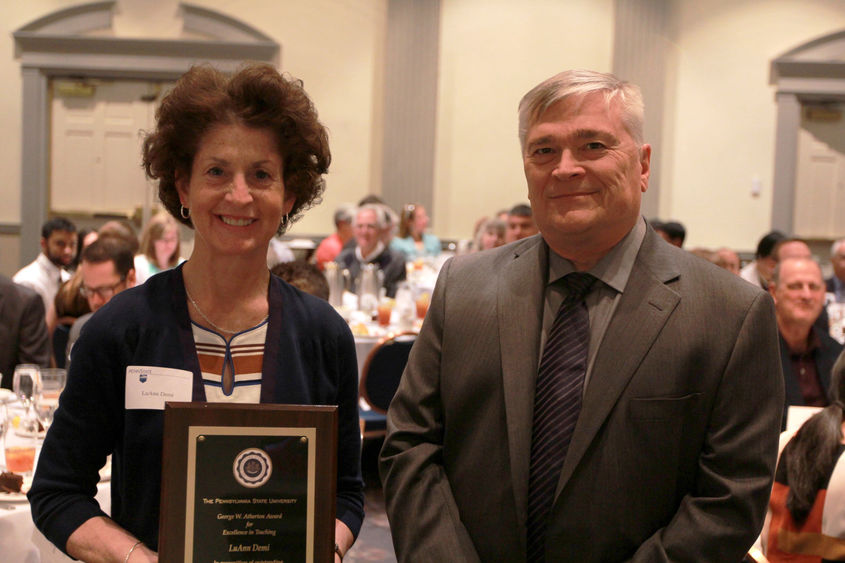 DUBOIS, Pa. — LuAnn Demi, senior instructor of the Occupational Therapy Assistant (OTA) program at Penn State DuBois, has received the University-wide 2015 George W. Atherton Award for Excellence in Teaching. The award is named after Penn State's seventh president and honors excellence in teaching at the undergraduate level.
Demi has implemented mandatory service-learning activities, recruited community-based clinicians to guest lecture, and organized hands-on training workshops for students. Her students also play an active role in caring for local senior citizens through programs such as CarFit, where older drivers are helped to become safer drivers.
Demi says the best teachers are also students. That is why she remains active in occupational therapy, practicing at a local clinic to stay knowledgeable on current treatments, equipment and techniques. Colleagues said Demi's ability to remain creative and innovative has made her a gifted educator.
"I feel truly honored to be recognized with this award," said Demi. "I consider preparing students for a career in occupational therapy, a profession I feel passionate about, a serious responsibility."
"It's challenging to oversee a program and ensure students are grasping all of the skills and concepts needed to prepare them for their future careers," she noted. "Thanks to my co-worker, Amy Fatula, our program demonstrates to students that it takes teamwork to run a program and, in their futures, to work as Occupational Therapy Assistants. I love teaching future OTA students and feel privileged to receive this recognition from Penn State."
Since 1999, Demi has coordinated the occupational therapy assistant program at Penn State DuBois, collaborating with faculty throughout the university system to update offerings to meet accreditation standards, industry trends and student needs.