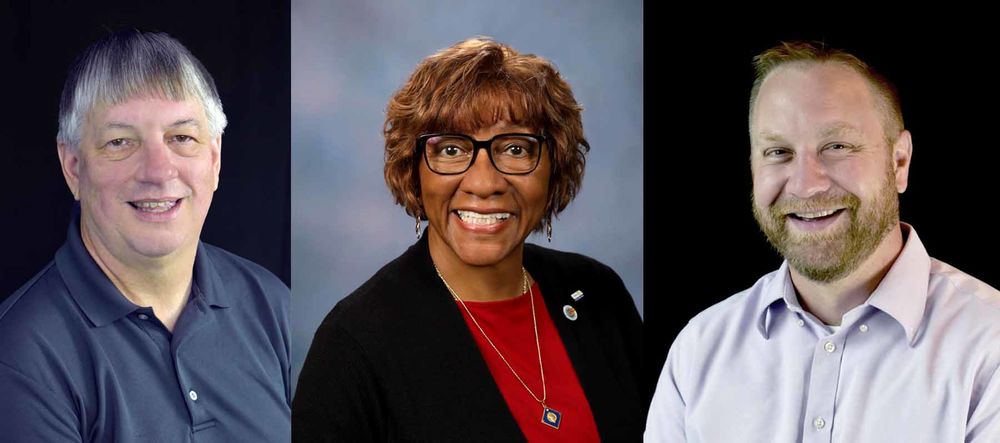 DUBOIS, Pa. — Three individuals will be honored for their accomplishments, as well as their dedication to Penn State DuBois, at the annual Benefit Celebration on Oct. 12. The Alumni Society will present their Alumni Awards during the celebration to Richard Ogden, recipient of the Lifetime Achievement Award; Anita McDonald, recipient of the Distinguished Ambassador Award; and Craig Hicks, recipient of the Outstanding Alumni Award.
Season six winner of NBC's "America's Got Talent" Landau Eugene Murphy Jr. will take the stage with his big band following the awards presentation, to offer the evening's featured entertainment.
Ogden is senior executive vice president and chief risk officer at Riverview Bank, which recently merged with CBT Bank. He was previously executive vice president, chief financial officer and treasurer at CBT Bank, where he began his career as an accountant in 1981. He recently established the Ogden Family Open Doors Scholarship and he has been instrumental in the bank's continued support of scholarships at Penn State DuBois.
Ogden currently serves on the Greater Penn State Campaign committee, and served on the DuBois Educational Foundation, the campus advisory board, for nearly 20 years. After graduating from Clearfield Area High School in 1976, he started his college career at Penn State DuBois and went on to complete a bachelor's degree in accounting at University Park in 1980.
McDonald served as chancellor at Penn State DuBois from 2003 until her retirement in December 2012. Under her leadership, the campus increased degree offerings, including a baccalaureate in engineering. During her time at the campus over $10 million was raised to support student scholarships and facility enhancements; and intercollegiate athletic programs were re-established.
McDonald and her husband, Bob, were major supporters of the campus. Shortly after arriving in DuBois they provided a gift to support the construction of the DEF Building on campus. In 2010, they established a trustee endowed scholarship in memory of her parents to support students with diverse backgrounds. In 2018, she established the Anita D. McDonald Open Doors Scholarship.
Hicks is a district supervisor in Ligonier, Pennsylvania, for the USDA's Wildlife Services program, where he has worked for 18 years. He supervises a team of biologists and technicians in resolving wildlife damage and disease conflicts to protect people, agriculture and wildlife. Since 2003, Hicks has visited the campus delivering presentations on topics ranging from wildlife management, feral swine, wildlife disease, and careers in wildlife, and has provided hands-on workshops.
Hicks is the current chair of the Penn State DuBois Wildlife Technology Advisory Board. He participates in interviews with first-year students, and mentors some of these students beyond the classroom. He works directly with instructors to provide volunteer internship opportunities to students. He graduated from the Penn State DuBois wildlife technology program in 1996, and earned his wildlife and fisheries science degree at University Park in 1999.
In addition to the Alumni Awards ceremony, the 2019 Penn State DuBois Benefit Celebration will also feature a reception, dinner, drinks, and the performance by Landau Eugene Murphy Jr., all included. The price to attend is $100 for the evening, with $50 from each admission being donated directly to the Penn State DuBois Scholarship Fund. Last year's event raised $10,000 to help cover the cost of higher education for Penn State DuBois students.
The event kicks off at 6 p.m. on Saturday, Oct. 12, at the DuBois Country Club. For more information, contact Lori Sabatose at 814-372-3020 or [email protected].