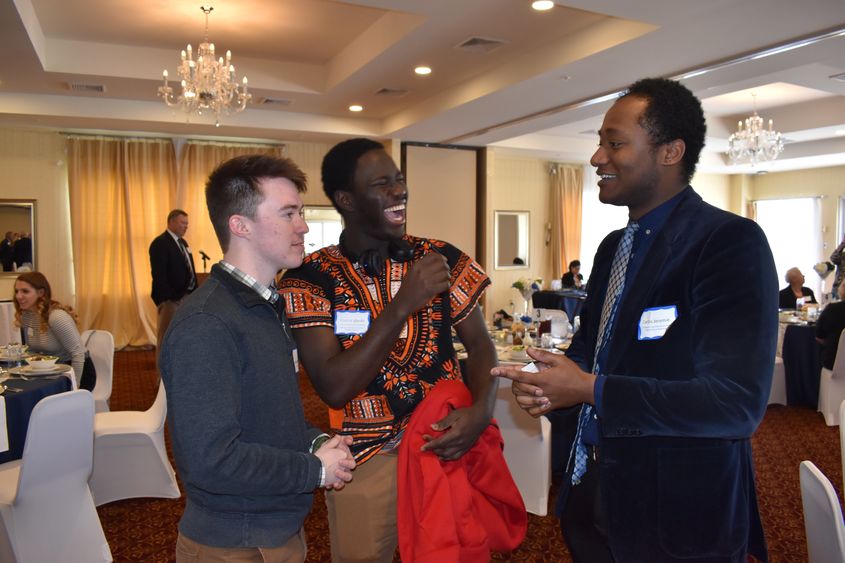 DuBOIS, Pa. — The generosity of donors and the impact of philanthropy were celebrated at the annual Penn State DuBois Scholarship Luncheon on Thursday, April 11, at the DuBois Country Club.
The luncheon brings together scholarship recipients with donors, giving them the chance to meet each other, and provides students with the opportunity to personally thank many of the people who made their scholarships possible. Donors get to see, firsthand, the kind of impact they've had in the lives of students, and the students have the chance to explain how critical the scholarships have been in their educational pursuits.
"Given that our students annually have $3 million in unmet need, we depend on the generosity of our donors to meet these financial obligations," said Chancellor M. Scott McBride. "Donors — on behalf of our Penn State campus community, please accept our most grateful appreciation for your gifts of treasury and for entrusting us to effectively apply these valued resources to support students in their pursuit of a coveted Penn State degree."
The program also featured testimonies from donors and students alike, allowing the perspective of both sides of giving to be heard. Offering the students' perspective were Gracie Hamilton, an education major and recipient of the Robert and Joyce Umbaugh Endowed Scholarship, and Carlos Jeremie, an information sciences and technology major and recipient of the Dr. David S. and Deborah M. Ross Open Doors Scholarship.
"This scholarship means a lot to me," Hamilton said. "This wonderful gift helped me get one step closer to my dreams. Without generous people like all of you in this room, some of us would not be able to afford school."
"I want to say thank you to Dr. David and Deborah Ross for investing in my education," said Jeremie. "It means the world to me that I received this scholarship. The fact that I was able to attend this school is something you can't put a price on."
Speaking from the donors' perspective were Bill Allenbaugh, a retired campus faculty member who has established two scholarships along with his wife, Nancy, as well as Ginger Kunkel, chief operating officer of Riverview Bank, an organization that also has established two scholarships at Penn State DuBois.
"I guess the reason I'm a donor is that I came from humble beginnings," Allenbaugh shared, noting that he is a campus alumnus who operated his own psychiatric practice while also teaching part time on campus. "Penn State DuBois opened doors for me for a life I never dreamed was possible as a kid. My wife and I have both benefited from the opportunities Penn State DuBois gave us. We hope that what we are doing helps you achieve your dreams."
Kunkel added, "We could not be more proud to be here and to support these bright minds who will lead us into the future."
This academic year, Penn State DuBois awarded more than $528,000 in scholarships to students.
To view the entire Scholarship Luncheon program, visit https://dubois.psu.edu/development-news-0.