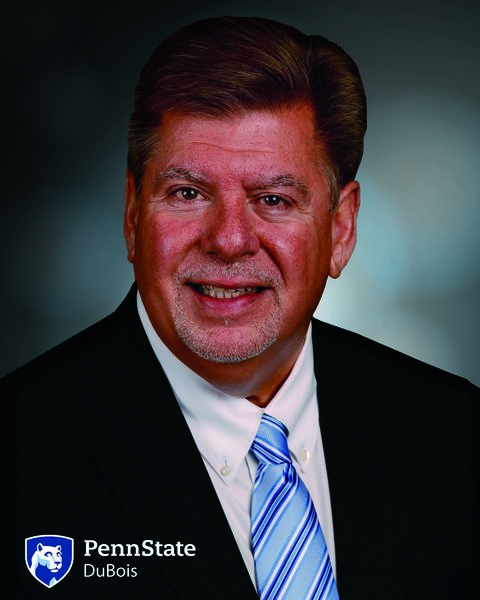 Chancellor, Chancellor's Office
Symmco House
1 College Place
DuBois, PA 15801
Biography

M. Scott McBride was named chancellor and chief academic officer at Penn State DuBois in March of 2017. Since his arrival at Penn State he has joined with campus and community stakeholders to ensure that the campus is fulfilling its land grant mission by educating Pennsylvania's citizenry, solving universal problems, and fueling economic sustainability through innovation and entrepreneurship. 

Prior to joining the Penn State family, McBride was the dean of the Caudill College of Arts, Humanities and Sciences at Morehead State University (Kentucky), where he led the 2,000-student college for nine years. Before his appointment as dean, McBride served as professor of music and led Morehead State's distinguished music programs. He began his administrative career in 1994 when he was appointed chair of the music department at the University of West Georgia. Dr. McBride began his career in 1978 teaching instrumental music in the public schools of Northeast Ohio. His career in higher education began in 1984 as a collegiate band director at California State University Fresno (Fresno State), and in 1991, he was appointed director of bands at Jacksonville State University in Alabama.

As an academic administrator, McBride has led curricular reforms, developed new programs, and advanced initiatives to improve student success. His efforts contributed to improved recruitment, retention and graduation rates; increased involvement in undergraduate research and service learning; cross-unit diversity programs and interdisciplinary collaborations; and advancement of the use of technology in teaching and learning.

Over the years he has served a variety of professional, academic, and community organizations. Notably, he served as an elected member to the boards of directors for the National Association of Schools of Music and California Music Educators Association. He is currently active locally as a member of the City of DuBois Rotary Club and is on the board of the DuBois Downtown Revitalization Group and serves as the post-secondary representative on the North Central Workforce Development Board.

McBride earned a Doctor of Philosophy in music education from the University of Oklahoma. He holds the Master of Music degree in performance and Bachelor of Music in music education degree from Kent State University.
Research Interests

As an accomplished musician, McBride has recorded, performed and directed productions in numerous venues across the country and abroad and served as a conductor for university and community bands and orchestras. As a trombonist, he performed with a host of professional ensembles, including orchestras, jazz ensembles, wind bands, and chamber ensembles. His original musicological research and his published orchestrations established his international standing.

He is published in a variety of professional journals and has made hundreds of appearances and presentations at state, regional, national meetings and music festivals. In all, his professional work has taken him to 39 states, the District of Columbia, three Canadian provinces, Brazil, Finland, the People's Republic of China, and the United Kingdom.
Publications

Cyrano by Philip Wilby (13.5 minutes), Wind Band Orchestration by M. Scott McBride (assisted by Mark Webster) published by Kirklees Music, Ltd., 2011.

Bridging the Generations: A Voice from the Past Inspires the Present. The Maud Powell Signature, Women in Music, Educators edition, Vol. II, No. 4 (Spring 2009).

An Interview with John Boyd: The World-Renowned Composer, Conductor, and Educator Discusses Music Education, Conducting, and the Future of Wind Band Music. Phi Beta Mu Report, Vol.16, No.1 (May 2004).

Paganini Variations by Philip Wilby (17 minutes), Wind Band Orchestration by M. Scott McBride, published by Novello & Co., Ltd., 2002
Education

Doctor of Philosophy in Music Education, University of Oklahoma

Master of Music in Performance, Kent State University

Bachelor of Music in Music Education, Kent State University